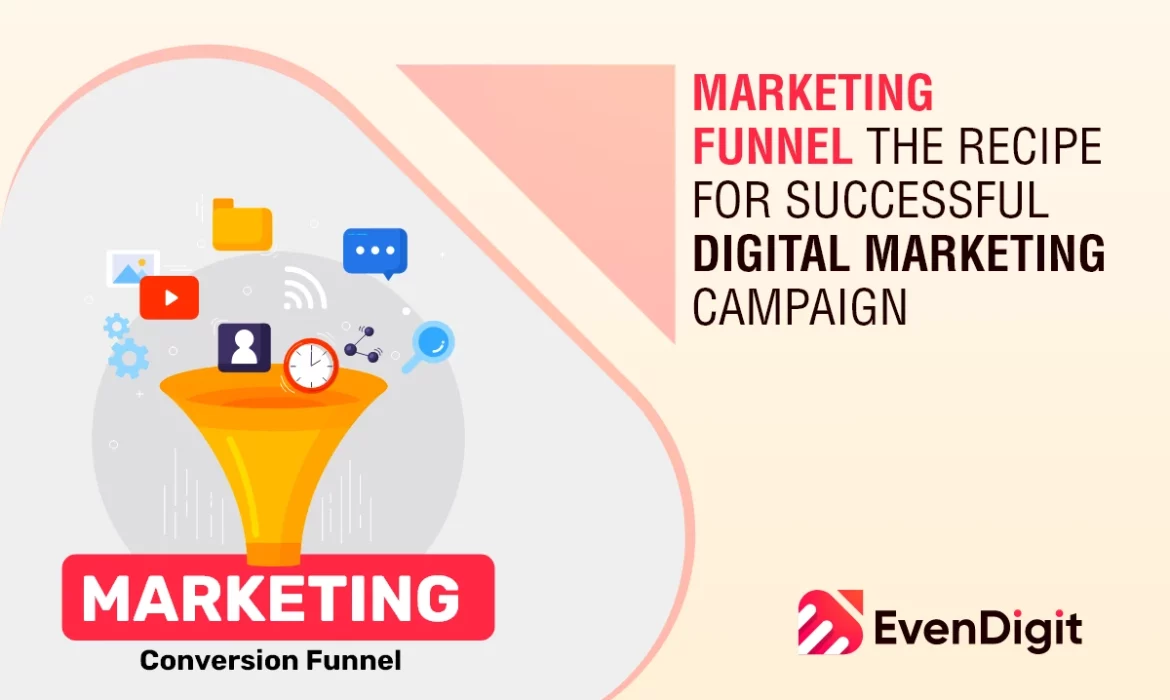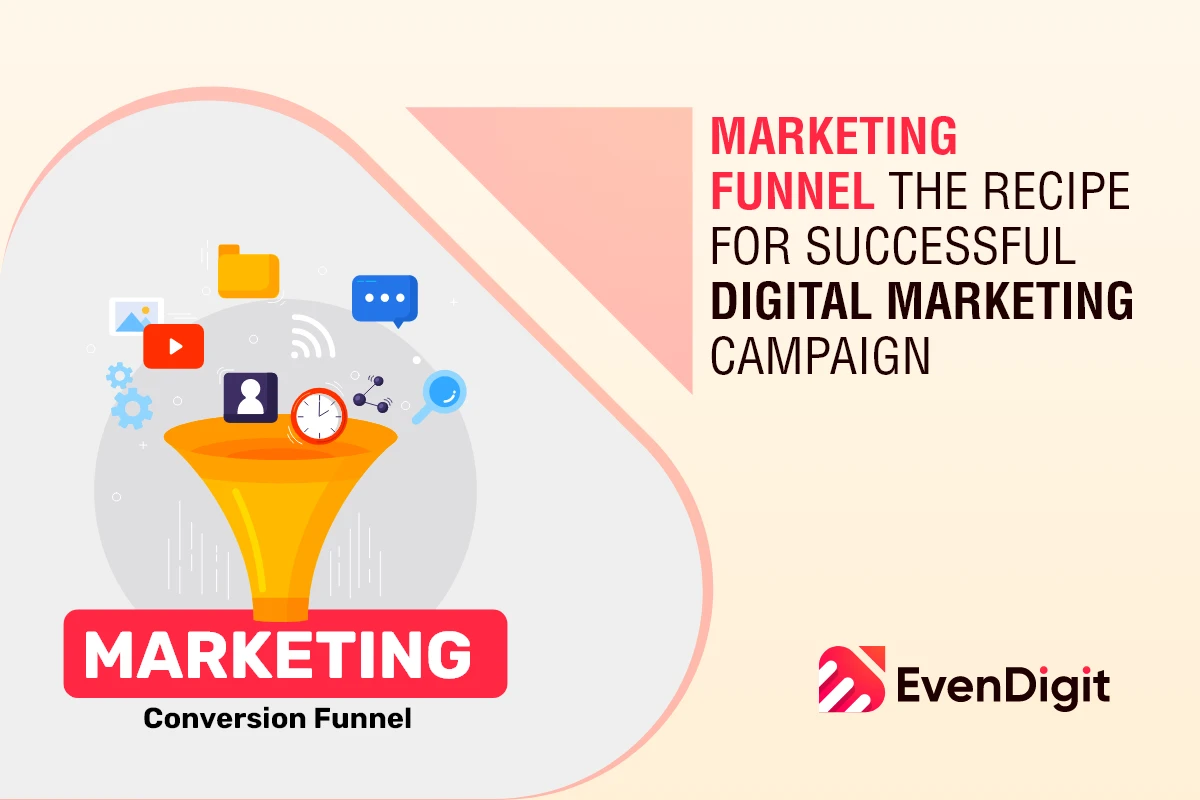 There is always a specific process to follow to attract the results. As digital marketing evolves, businesses choose many new marketing strategies and trends in 2023 to achieve results. You want customers to visit the website and take certain actions to create sales. To follow this, you need to draw some steps a customer goes through, creating a business marketing funnel.
What is Marketing Sales Funnel?
Potential customers go through a marketing sales funnel on their way to becoming customers.
Marketing Funnel takes your customers through the whole journey, from the awareness stage, when they know about your business, to the purchase stage, when they are up for buying your product or service.
Benefits of Sales Funnel in Digital Marketing
• Attracting new leads
• Streamlining your marketing
• Focusing on the right leads
• Sorting and ranking your leads
• Building trust and relationships with leads
• Increasing your conversion rate
• Better forecasting of your sales volume
Stages of the Marketing Funnel or Sales Funnel
It does not matter what customers are looking for or how much they tend to spend on it. The same process or path is followed when deciding what to buy, irrespective of the product or service. The process involves five stages. Let us understand:
#Stage 1: Problem Observation
Unless a customer doesn't observe and recognize the specifications meeting their need for a product or service, they will not make a purchase. The needs may differ, some can be easily solved, or some may need to get exact solutions.
The buyer's needs and problems observation stages are different for every business.
#Stage 2: Information Research
Once the problem or need has been observed, the users search and find out more about it. In this stage, the customers are more likely to explore more about their problems, potential, relevant solutions, and recommendations, even searching on social media platforms and forums. The strategies and depth of searching differ from the size and scope of their need.
If someone is hungry, they will search for restaurants in the area, but what if someone wants to install a water purifier? They will make some calls, look out for brands, read reviews, talk to salespeople, etc. the customers tend to look for more potential solutions rather than promotional content.
#Stage 3: Considering Alternatives
After searching, the potential customers start looking and comparing the alternatives. The time spent on finding alternatives depends upon the type of purchase. Choosing a restaurant may be simple, but in some cases, customers undergo thorough research and learn about the solutions, look for pricing guides to compare, try out trials, etc. You can create content according to their expectations.
#Stage 4: Making the Purchase
By this stage, the customer has determined the need or problem, researched and considered the options, made the final decision, and is ready to spend the money. You can make your customer feel confident in their decision and choice by sharing case studies or customer reviews on the website.
#Stage 5: Buyer's post-purchase behavior
The final purchase is not the end; the after-move is also important, that is, the post-purchase behavior. Suppose the customers are provided with an onboarding process, proper attention, and equipped with the resources they require to use the products. In that case, they feel confident about their choice and recommend or endorse your products to others.
However, if unsatisfied with the purchase, they will request refunds and pass on negative feedback. On your part, you can only create a good product to solve their problem and provide good services.
The SEO conversion funnel marketing – What is it?
Once you understand peoples' online shopping journey, it is easier to help them find the way to your website and turn them into leads. For a business, it is important to integrate and optimize organic traffic conversions.
The SEO conversion funnel marketing allows marketers to think about the steps potential customers undergo or follow before purchasing the product. The funnel-like shape symbolizes the customers dropping off on the way to the final stage.
The SEO approach in the sales funnel is the way of optimizing your content so that it becomes easy for the customer to find your way and choose your product. Getting successful conversions requires understanding the customer at every stage of the process.
The funnel stages depend on how deeply you wish to study, but the simplest conversion funnel consists of three stages: awareness, research, and conversion. The funnel keeps getting smaller as customers slowly and steadily reach the conversion stage.
Stages of SEO Funnel Marketing Strategy
#Stage 1: Awareness
At the awareness stage of the SEO sales funnel, you will capture the potential customers who are aware of what they need or want and start exploring and searching for their product or solutions for any query.
When it comes to gaining leads, you need to generate content that will answer the queries they will search for or ask while choosing your product. Answering the customer's query will help you rank on Google SERPs, bringing more visitors to your website.
You need to create content according to users' search habits and gather the query-based keywords people search to find out the product you sell. Consider using these keywords in your content, what type of content users want, and what content you want them to discover on your site. You can use head keywords, whereas long-tail keywords later on. Each type of keyword contributes to ranking your content and improving visibility.
#Stage 2: Research
In the SEO sales funnel research, the potential customers are still determining what they want to buy and where but are thinking of purchasing something. Customers that reach this stage of the SEO funnel often turn into prospects for your business as they visit your site and search for various options. All you have to do is get your product on their notice by ranking in SERP. For ranking on Google SERP, create quality content as when people are searching and looking out for the product, they have several questions that help them choose, such as specifications and prices of the products.
Provide expert, authoritative and trustworthy content that gives accurate information to the site visitor. You can include proper product descriptions and blog posts to answer relevant queries leading to ranking in SERP and persuading them to buy one of your products.
#Stage 3: Conversion
The conversion stage is the end game of the SEO conversion funnel, where the customers are one step away from purchasing your product. At this stage, you need to focus less on keywords and more on the content because it is all that matters in the end. If you have already listed product descriptions and blog posts, offer them relevant information they have yet to search for.
At this stage of the SEO sales funnel, make sure customers know everything they need to convert. List some case studies and customer reviews that will help make sales and build trustworthiness, and list all the reasons why they should choose your product. The customer is more intended to purchase a product from you than competitors by seeing positive reviews on your site, thus making the sale.
#Stage 4: Retention
After the conversion stage, your goal should be to turn these customers into repetitive ones and ensure they develop long-term loyalty. For this purpose, create valuable content and offers you are sure they would not like to miss.
You can generate in the form of the following:
• Detailed how-to videos
• Customer support/help desk
• Innovate products that complement their past purchase
• Email outreach and follow-up
• Invite them to loyalty/reward programs
• Special offers
The more value you provide to them, the more chances they will contact your business and become your regular customers.
Google Ads Funnel is a strategy designed with various campaigns. To attract new audiences, generate interest and demand, and warm them up to start searching about your product and service. Turn them into prospects by targeting the right ad messaging and promotion at the right time. Turn strangers into leads by targeting personalized messaging and offers.
Why is a Google Ads funnel the best PPC strategy?
Search campaigns are a savior if there is a high demand for your product or service. You may miss out because of low search volume and not reaching out to the huge potential market. People must intend to buy from you but are not googling your targeted keywords. Creating great ad messaging and content through the Google Ads funnel can attract more interested prospects, introduce your brand to new audiences, and generate demand for a product or service.
Within the earlier stages of the Google ads funnel, you can capture more users and pay less as ad cost is low. You can create a database for profitable campaigns and higher ROI and guide users to become customers step-by-step.
A Google ads funnel – terminates the issue of people not buying from strangers, hesitant to sign up for a brand they have never seen before by introducing the brand through interaction with the customers along their journey.
Let us know how to build a perfect Google ads funnel:
How to create a Google Ads funnel – Stages
It involves targeting ad campaigns, offers, and bidding strategies with each step of the customer journey.
#Stage 1: Attract and make aware the cold audiences
Starting from this stage, the users do not even know about your existence. This stage includes attracting total strangers who can become your customers. With video and display campaigns, it is easier to grab people's attention and develop interest.
You can also use search campaigns as the users will be searching for more about their problems at this stage. Align your messaging ads that provide education, building interest with time. You won't be able to generate higher revenue at this stage. Focus on google ad campaigns, education, and bidding strategies that attract more prospects at cheaper CPCs.
Some of the google ad campaigns in the top stage that can help in reaching a broader audience and raise awareness are:
Google Ads Campaign type
1. Display Ad Campaigns
Google Ads are a great way to attract an audience as the ads are shown in the Google Display Network (GDN). It is advisable to use Responsive Display Ads as it allows you to upload the assets that fit the website and apps' requirements on GDN and does not let you make multiple images every month to promote your business.
2. Video Campaigns
Videos work wonders for people who are completely unaware of your business. Videos are a great combination of texts and visuals, which grabs new prospects' attention. You can use TrueView ads that play before the Youtube videos that the users are interested in.
3. Discovery Ads
Discovery Ads help to discover your business to interested users. You can use Google Discovery Ads that can appear on Youtube, Gmail, and Google mobile apps. These ads are with images, headlines, and call-to-action and are similar to what you see on Facebook, LinkedIn, and Instagram.
4. Search Campaigns
With search campaigns, you can attract users early in the funnel. You need to display yourself as a possible solution for people searching for information, asking questions, or researching the problem. Target the broader search keywords with higher buying intent to be present in front when users search for something you offer. Use some informational, how-to, question-related, and product/service keywords.
Content and offer for cold audiences
The goal at the funnel's top stage should be to educate about your brand to the people. Your ad messaging should display the information and the solution to their problems. This can be done through your landing pages and websites displaying blog posts, PDFs, and product descriptions for e-commerce sites. Use these ads to be in the eye of potential customers.
Google Ads bidding strategies for cold audiences
Cold users are far away from converting and generating revenue at this stage. So, the best bidding strategies are:
1. Manual CPC: If you want to have detailed control over bidding, you, on your own, can spend more time monitoring costs and adjusting bids.
2. Max Clicks Google will try to get as many clicks within your daily budget. It works for search and display ads.
3. Max CPV: It works for video campaigns and offers on TrueView ads. You can set the maximum amount you want to pay for each view.
4. Target CPA You can use this with Discovery Ads. If you need help deciding what to set as a target CPA, avail yourself of the Google recommendation.
#Stage 2: Engage with warm audiences
In this stage of the Google Ads funnel, you will have to engage with warmer audiences searching for the product or services. Use search campaigns. If they have yet to interact with you but who have already interacted with your business, use remarketing campaigns for a reminder about your products and services by focusing on more product-centric and promotional messaging.
Google Ads Campaigns
1. Search Campaigns
The users are actively searching for a solution to their problems by using generic terms of product/service, industry, product category, or comparison keywords. Also, include promotions to drive them to your core offer, browse them or sign up.
2. Remarketing Campaigns
Target the users who previously interacted with you by remarketing ads to develop some interest and demand even actions on your site. Remarketing can be used on video and display campaigns. Focus more on displaying the USPs of your product and service or benefits that make you one of a kind.
3. Display and Video Ads
For users exposed less to your business, use video and display ads to reach out to them based on their search. When they show interest in products or services, your ads should match and reach the right people at the right moment. Consider increasing the bids and budget, as warm audiences matter.
Content for warm audiences
People at this stage are well versed in their needs and problems and looking for possible solutions by searching on Google. Users are highly interested in your offering; turn the interest into desire by offering eBooks, brochures, case studies, demos, etc., that lead to signups. If you are into the e-commerce business, update your websites with product descriptions, features, benefits, and some social proof.
Google ads bidding strategies for warm audiences
Make the visitors take action when visiting your website. They tend to convert for your offer more than the cold audiences, so you can bid higher. Some bidding strategies at this stage are:
1. Enhanced PPC: It works for search and display campaigns. You can manually bid, and google will adjust accordingly with the likelihood of clicks resulting in the conversion.
2. Max Conversions: The strategy allows you to get more bids within the set budget. Based on time, location, and device, google increases and decreases bids.
#Stage 3: Lead conversions with hot audiences
Finally, the stage where the prospects will be turned into customers! Ads and landing page messaging create some sense of urgency to make prospects click to take action. The targeted users are those who have previously interacted with your ads and users who search for high-intent keywords on google. You can generate higher revenue through the following:
Google Ads Campaigns
1. Search Campaigns:
The search campaigns lead directly to signups and purchases. As hot users, search terms are direct to what they are looking for. You need to target users with highly specific product/service keywords, geolocation, branded, competitor, and action keywords.
2. Remarketing campaigns:
Often, the users look for extra incentives before converting to the offer. Use Dynamic Remarketing Ads, as these are display ads customized for website visitors, which show content and products related to the users' previously visited websites. For this, you can also use video campaigns through TrueView, which may entice the user to take action.
3. RLSA (Remarketing leads for Search ads) Campaigns:
With RLSA, your business ads can show up on Google search campaigns. For users who have already visited your website, search with targeted keywords, thus making higher chances of bringing them back to your site for conversion. Pair your RLSA ads with special discounts and offers to get more & more clicks.
Targeting hot audiences with proper content and offers
In the funnel's bottom stage, you need to push the audience to take action to get conversions. Focus on highlighting the deal's value that entices the users to click immediately. Highlight testimonials, reviews, or any limited & special offer deals, gifts, etc., to persuade them to convert.
Google Ads bidding strategies
To maximize the profits and ROI, you need to make the most of your ad budget and get those leads. The two automated bidding strategies that target higher conversions are:
1. Target CPA: It adjusts the bids to get as many conversions possible at your cost per action, focusing on generating leads.
2. Target ROAS: it lets you bid based on the target return on ad spend (ROAS). Through this strategy, it is possible to maximize the conversion value percentage based on the return you want from advertising for e-commerce websites.

Connect Through WhatsApp
Stages of Social Media Funnel Marketing Strategy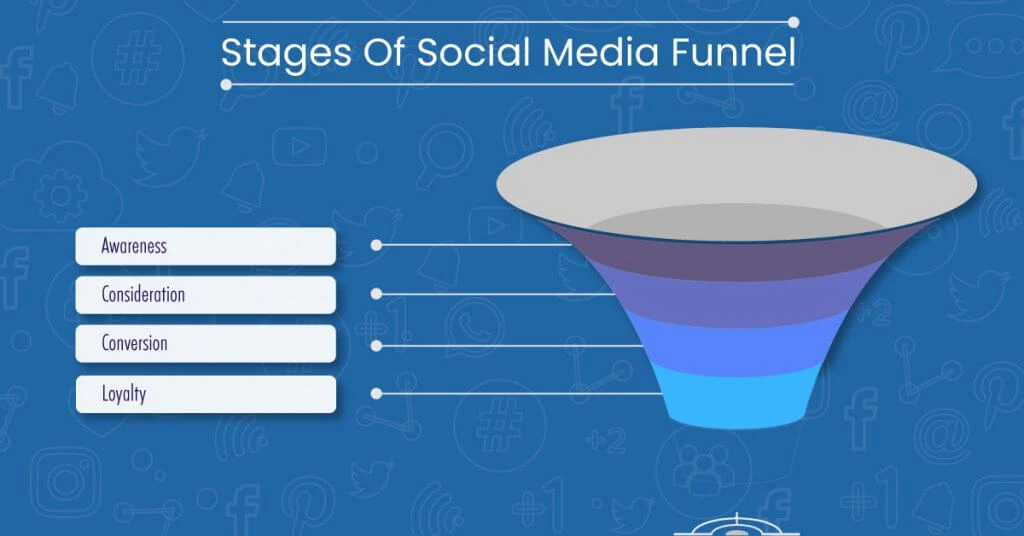 #Stage 1: Awareness
The first and foremost step is to reach the potential audience who need to know who you are and what you sell. You will have to educate them about yourself and why they need you.
Video content is incredibly useful in serving this purpose. A short, bite-sized, wrapped-up explainer video can educate prospects about your business in just a few seconds. A video is a great example to illustrate who you are and what you do.
Content in the form of blogs or advertorials has the power to pull cold traffic. They will reach either through google search or by social space. You can do it through blog posts by attacking keywords or publishing pieces directly hitting the target audience.
#Stage 2: Consideration
There are certain touchpoints where a potential customer comes into contact with your brand before, during, or after making the purchase. And social media is considered to be the low-hanging fruit for meeting these touchpoints in the way of LIKES, COMMENTS & SHARES.
These reactions or actions take place in only a matter of seconds and represent engagement between you and potential customers or leads. The more you pop up on the feed, the more familiar they become with your business.
Another step to creating a new customer is to interact with your followers. For this, they prefer to publish quality content regularly, enticing them to take action. Besides blog posts and videos, consider posting some question-based posts to interact back and forth with your followers. A post with a meme or some humor gains a lot of engagement from the followers.
#Stage 3: Conversion
The whole social media marketing is to avoid forceful and aggressive sales. But you know the customer intends to buy if they have interacted with you by clicking on ads, availing free trials or signing up for the email list, etc., and considering the potential competitors. You can count on a sale from someone who has taken the time to interact with your business multiple times because the aim is to gain more customers at the end of the day.
#Stage 4: Loyalty
You cannot afford to skip the loyalty stage of the social media marketing funnel. It asks to put more effort into gaining new customers than retaining the existing ones. When targeting previous customers, here's where remarketing ads come in. To introduce new products or promotions and serve new discounts to previous customers, segmenting the ads for past customers is a quick and easy way to make them repeat the purchase. The company or brand must cross-sell the products with exclusive promotional offers.
Another way to create loyalty is to promote user-generated content by sharing customer photos by which they know you value them and push the brand's narrative to others.
Have You Fine-Tuned Your Marketing Funnel?
Every dish has a specific recipe that is followed to get amazing results. Similarly, every business or brand should build a b2c or b2b marketing funnel as a developed strategy for growth.
You need to pay attention to your audience at each level of the funnel to not miss out on them. But building a funnel can sometimes be difficult, and things may get messed up.
Marketing funnel explained here is standard funnel that is followed industrywide but If you seek professional help, reach out to us to build a perfect marketing funnel for your business to get the maximum of all the results and customers.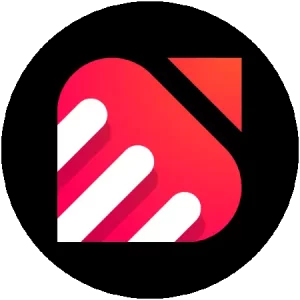 EvenDigit
EvenDigit is an award-winning Digital Marketing agency, a brand owned by Softude (formerly Systematix Infotech) – A CMMI Level 5 Company. Softude creates leading-edge digital transformation solutions to help domain-leading businesses and innovative startups deliver to excel. We are a team of 70+ enthusiastic millennials who are experienced, result-driven, and hard-wired digital marketers, and that collectively makes us EvenDigit.
Read More