Peek through the buzz all around us...
When we put our digital marketing capabilities to work, here's how the leading media applauds us.
EvenDigit, a leading digital marketing firm, is recognized as the top SEO company by Clutch, a leading B2B research and review platform. The company received this prestigious title after being evaluated based on various factors such as client satisfaction, market presence, and industry recognition.
EvenDigit has been providing innovative and effective SEO services to clients for over a decade and has helped numerous businesses increase their online visibility, attract more traffic, and generate more leads. The recognition by Clutch further cements EvenDigit's position as a leading provider of SEO services in India and demonstrates our commitment to delivering exceptional results to our clients.
EvenDigit, a leading digital marketing company, has been named the Top SEO Company in Education by Clutch, a well-known research and review firm. This recognition solidifies EvenDigit's expertise in providing superior SEO services to education clients and their ability to increase online visibility and drive traffic to their websites.
EvenDigit's team of experts has extensive knowledge of the education sector and is dedicated to delivering customized SEO strategies that align with their client's goals and objectives. The company's commitment to delivering results-driven solutions has earned them a reputation as the go-to provider for education-focused SEO services.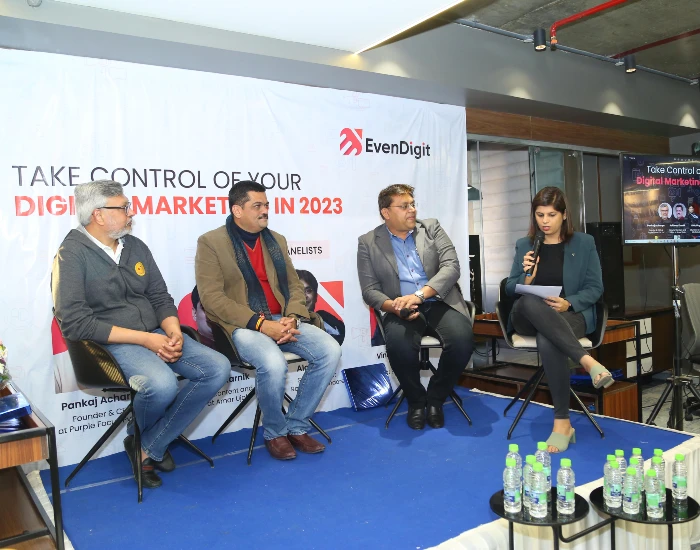 Event: Take control of your Digital Marketing in 2023
Digital marketing can make or break your business. You can gain a substantial competitive advantage over your competitors by using digital marketing to advertise your business.
Understanding the impact of it on businesses, we organized an expert session by our CEO Mrs. Vinita Pariyani. A panel discussion was also organized covering the importance of omnichannel marketing. Read all about it here.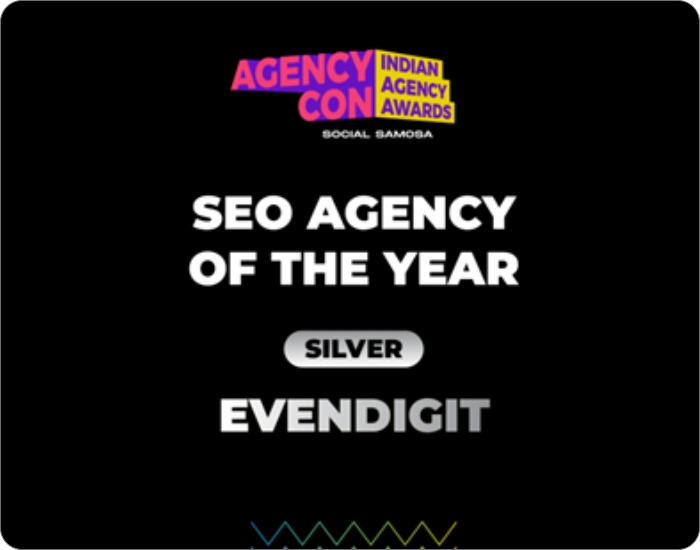 SEO Agency of the Year 2022
Agency Con Indian Agency Awards by Social Samosa seeks to recognize and honor unsung heroes whose creative abilities have helped them overcome barriers.
EvenDigit is one such organization that has done commendable work on many SEO projects. One specific client where we did outstanding was LA-Language Academy's SEO. Through SEO, we developed their organic traffic from 0 to 125k+ in 13 months.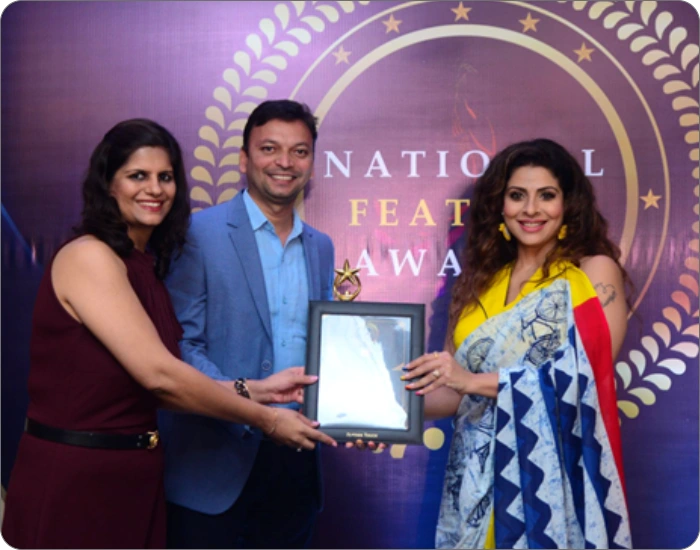 Excellence & Leadership in Social Media & Digital Marketing
Excellence & Leadership in Social Media & Digital Marketing by National Feather Awards. In the National Feather Awards, individuals and organizations that have made a significant contribution to the industry and society are honored. It shows appreciation and gratitude for each person's good work, and it informs them that good work will be rewarded.
Our entire team involved in social media and digital marketing was applauded for consistently generating good results for one of our clients LA-Language Academy. The team worked for almost 3 years for this client, and the expectations of the client were not just met but also exceeded.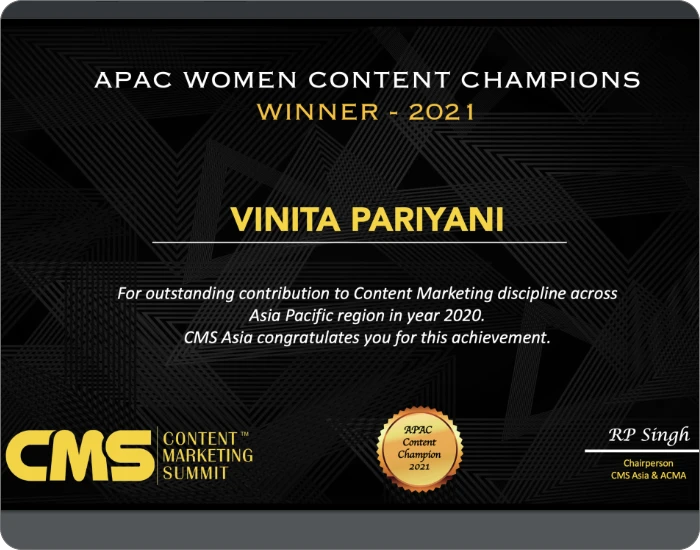 APAC Women Content Champion for 2021
By Content Marketing Summit India CMS Asia is a community-driven, premier content marketing event that brings together the world's top minds in content marketing. Speakers include savvy brands, leading technology enablers, renowned publishers, and key practitioners.

Vinita Pariyani, CEO EvenDigit, won this prestigious award for the amazing results of the content marketing campaign done by our in-house team under her guidance. Through this campaign, our company was able to sustain from the COVID lockdown and slow economy while generating surprising results, much better than industry standards. A few stats looked like this: 273% more traffic visited the website, and there was a 595% rise in organic traffic.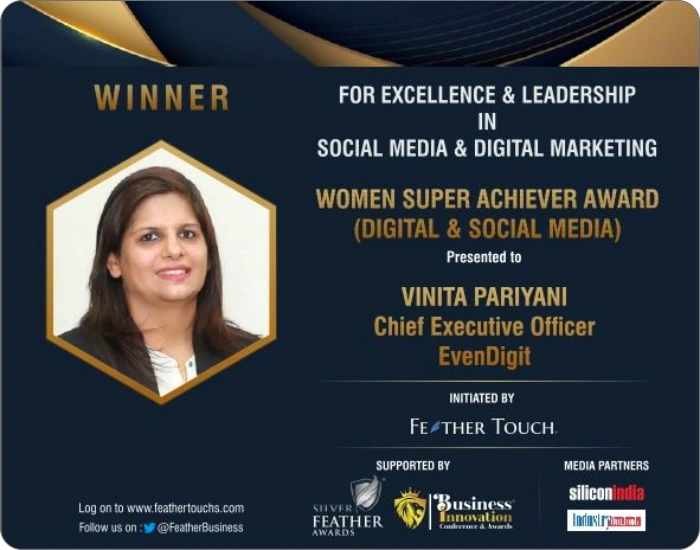 Woman Super Achiever Award in Digital & Social Media
National Feather Awards recognize outstanding professionals and leaders who have made significant contributions to both the industry and society. Individuals or organizations receiving the National Feather Award have contributed significantly to the industry as well as society as a whole.
Vinita Pariyani, CEO - EvenDigit, was felicitated by this prestigious award in recognition of her work done during the past several years for the growth of Digital & Social Media marketing for numerous national and international small, medium, and enterprise businesses. She is the powerful pillar behind the success of EvenDigit.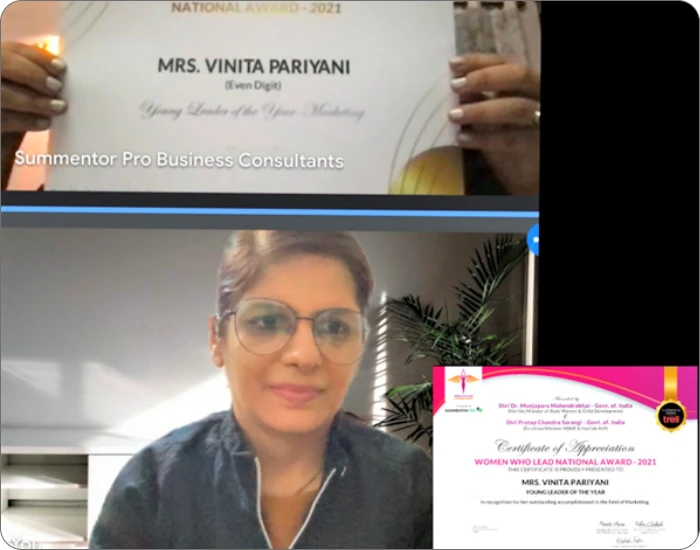 Young Leader of the Year - Marketing
By Women Who Lead National Award 2021 Women Who Lead National Award 2021 celebrated women leaders, achievers, and trend-setters. Aside from recognizing women for their relentless pursuit of excellence, the awards also honored women who held leadership positions.
Our CEO Mrs. Vinita Pariyani won this award as a recognition of her leadership skills at EvenDigit. She started the brand from scratch and has always stood firmly as a building force in making the brand from zero to a significant digital marketing brand. Today the company proves its capabilities globally, and several brands trust them for their digital marketing done under her eminent leadership.
Google Premier Partner by Google
Google Premier Partners have demonstrated expertise and skills in advertising, have met advertising spend requirements, have generated revenue from clients and agencies, and have maintained and grown their clientele. As well as managing higher spending and meeting certification and performance requirements beyond the basic Google Partner level, Google recognizes these companies as leading companies.
In the year 2022, after competing with several thousand companies, the EvenDigit team successfully qualified to earn the prestigious status among the top 3% achievers. We earned this badge for excellently managing our clients' ad campaigns and bringing significant revenue to them through Google Ads campaigns.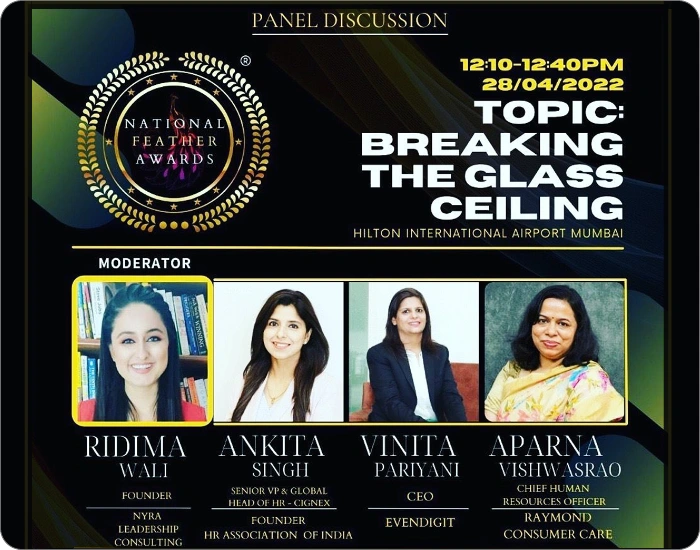 Panel Discussion on - Breaking the glass ceiling by Feather Touch Awards
Though we advocate that the world has become a better place for women to live, but women, girls, and females of all ages don't feel the same. Females are doing everything from a small routine to extraordinary acts, but the thoughts inside their minds still bind them.
Feather Touch organized a panel discussion to uncover how some successful and leading ladies broke through the mental glass ceiling that was actually only in their heads. Our CEO Vinita Pariyani was invited to speak, share and inspire the following generation of bold ladies.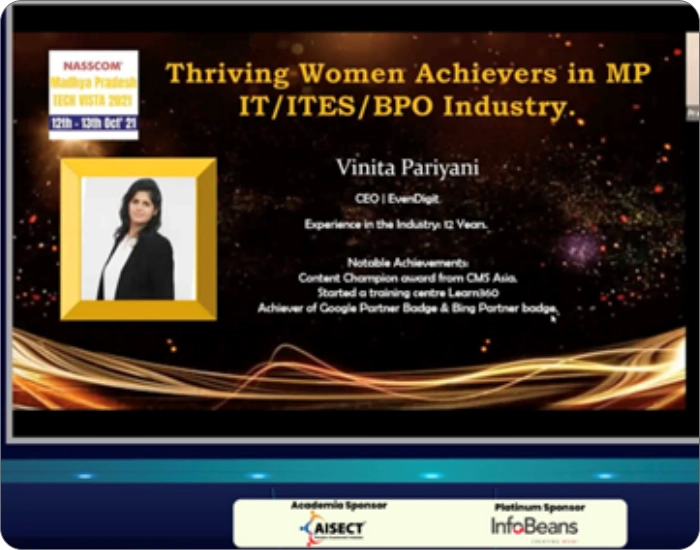 Thriving Women Achievers of MP
By Nasscom in Madhya Pradesh Tech Vista 2021 A discussion about the technological capabilities of the ecosystem and how organizations can enhance their technical capabilities took place at Madhya Pradesh Tech Vista 2021 – Lauding the Spirit and Potential of Technology, organized by NASSCOM. Over 1000 delegates attended 25+ sessions, ten virtual exhibitors participated, and innovation advancement was celebrated at the event.
EvenDigit CEO Mrs Vinita Pariyani was invited in the event to join a panel discussion and was felicitated as among the Thriving Women Achievers of MP. Her expertise in the field of digital marketing and landing page development was recognized and applauded with this award.