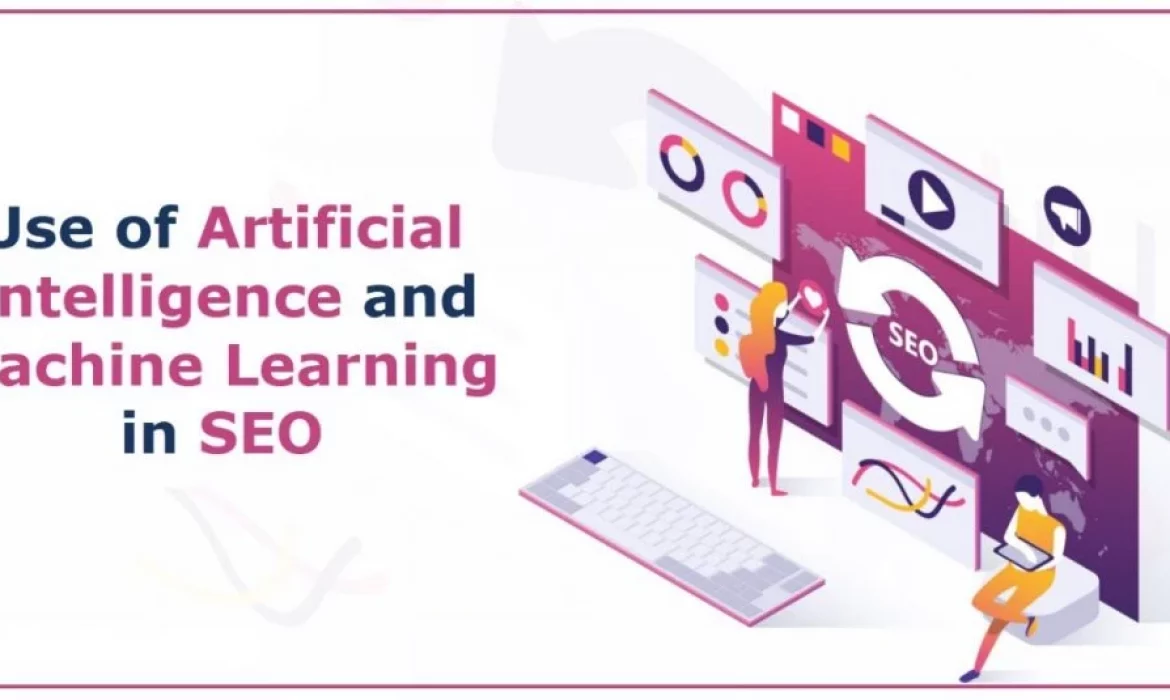 In many industries, including SEO, Artificial intelligence, Machine Learning, and deep learning are on the rise. With the rise of Artificial intelligence, it's no wonder that SEO is a constantly evolving field.
Artificial intelligence is helping search engines determine what web pages are about and what's useful. These developments are making SEO more
important than ever before.
Accenture says current machine technology can boost productivity by 40%.
Early users of machine learning technologies achieved remarkable outcomes. Netflix saved $1 billion in 2017 using machine learning to make personalized suggestions.
To stay ahead of the latest SEO trends, SEO experts must stay up to date.
Google's core Algorithm RankBrain has revolutionized search results using machine learning. It uses previous data to predict what result the user is most likely to click to meet the intent.
Since then, SEO has experienced a lot of betterment and relevance in the search results.
BERT understands a searcher's intent by understanding concepts instead of keywords.
ML technology adapts and responds to data. Learning over time to answer search queries better. This provides better accuracy in search results at speed beyond human capabilities.
Google continues to get better and smarter to give you the best search experience. You will not outperform in the SERP if your website does not give a better experience.
Not a new update is always responsible for a drop in rankings. The better you understand how AI works on SERP, the better you'll be able to rank.
Machine learning helps SEO. It provides a better understanding of search intent, personalization, and voice search.
You need to focus on a better content experience for your viewers, with quality content creation or optimization.
Thus creating content based on intent is a great way to move ahead!
As per Backlinko, RankBrain looks at the four major parameters to test search results:
Organic Click Through Rate
The number of users clicked on a particular search result.
Bounce rate
What number of visitors exit the site after visiting.
Dwell Time
For how long the visitors remain on the site.
Pogo Sticking
The number of times a visitor clicks the back button to go back to the search results to check other results.
All these contribute a lot to understanding the user experience of your site. And play an important role in your search rankings.
These factors are monitored using machine learning algorithms. To continually evolve and improve to give the best user experience.
AI in SEO is capable enough to detect keyword stuffing in the content. Duplicate content, spam activities, and bad backlinks help Google find the best results.
AI and machine learning together deliver the most valuable and knowledgeable results.
5 Ways to Use AI to Improve your SEO.
Emerging technologies use AI to improve the content or speed up data analysis.
To achieve the top ranking, you need to work hard and be always on top of your game. AI is the way to go, which will help you to stay ahead of your competitors.
Let us have a look at the few ways in which artificial intelligence can improve your SEO.
1) Adapting to voice search and text search
Voice Search is One of the fastest evolving areas in the digital marketing industry. Here are some stats on how fast the number of voice-activated assistants is rising: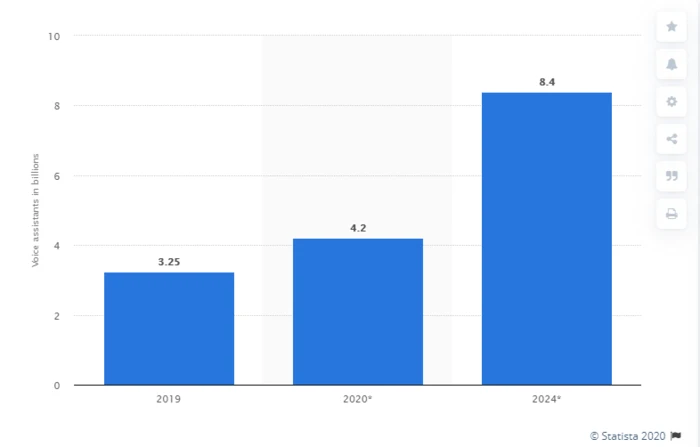 Globally, Statista predicts voice assistants will reach 8.4 billion in the next few years.
For instance, Siri and Alexa use AI-powered speech recognition to support voice search. In contrast, voice-to-text applications like Google Dictate transcribe your dictated words to text.
Here you can stand out in SERP by preparing more conversational content. Use AI-based tools like Hemingway Editor and Grammarly.
You can also use tools like Frase to find what questions are being asked using voice search.
2) Conduct SEO Audits
AI-powered tools can analyze all pages and conduct extensive site audits in minutes.
You can also use AI SEO software, such as Alli AI, SEMrush, Screaming frog, XENU, etc., for technical SEO scaling.
Many SEO software can analyze top-performing content on the on-page SEO front. Helping you in content creation.
Using tools for SEO Audits helps to execute and analyze the tasks faster and efficiently. Thus helping experts save their time and focus on other important things.
3) Discover Link-Building Opportunities
In SEO, Link-building is also a very important factor to boost any blog or website faster.
Artificial intelligence is not only helpful in link-building opportunities too.
Artificial intelligence (AI) in SEO has been proved very effective in getting rankings. For many years, AI has allowed effective link-building for SEO practitioners to rank websites.
Before AI, SEO practitioners required a lot of time and effort in link-building. Websites required a lot of time to rank too. Link building is not a fully autonomous process. But, we can use Al and find bloggers/influencers easily.
Below given is the process which we can use in link-building:
AI helps you find influencers, bloggers, and many link-building sites. You can connect,
write and post website links to get ranking in search engines.

AI tool finds influencers and guest bloggers based on a keyword you enter related to your niche. You can easily connect with them and build natural do-follow links.
AI-powered backlinks tools like UberSuggest, Moz, Linkio, Ahrefs, Majestic.com. With these tools, you will get
New website using competitor analysis for backlinks.

High-authority websites and blogs to publish your blogs and post website links.
A. Ubersuggest
Get strategies that are already used by others.
B. Moz
Get link-building opportunities.
C. Postaga
Find effective link-building sites, influencers, guest bloggers, etc.
D. Ahrefs
Backlinks checking tool helps you to find link‐building opportunities.
E. Majestic
Get backlink strategies with Link Intelligence data.
F. Linkio
Get competitors dofollow and indexed links.
G. Buzzstream
Get new bloggers and social profiles.
H. Guest Post Tracker
Get blogs that accept guest posts.
Artificial intelligence increases the efficiency of finding link-building platforms, influencers, and bloggers. SEO practitioners start working fast in link building. Hence websites rank faster.
4) Better and efficient Data Processing
With the use of deep computations, AI-based algorithms can help you with most of the heavy lifting. Machine learning (A subfield of AI) is a vital Data Analytics component.
Machine learning contributes to the Big Data revolution by handling data complications, insights, decisions, and predictions. It provides useful business insights and intelligent decision-making. Thus provides better decision-making based on data-driven approaches for an organization.
AI determines queries that will perform best by looking at impressions and clicks. This gives you proper insight. You know which set of queries to work on and which queries are more likely to give the best results.
5) AI For Content creation
Content writing is not an easy task. Especially writing engaging content that is optimized and relevant. But, with the help of AI, the process of content creation has become very easy.
These AI-Powered tools can create keyword-optimized content with a set of keywords. These tools are so natural that you can even create Ad copies that Google even accepts.
Who is utilizing AI in Content and SEO?
Artificial intelligence in content isn't a fantasy, yet a reality being lived today. In 2020, Microsoft reported that it would replace part of its group with AI arrangements. The essential spotlight is on the MSN news page.
There, the innovation will sift through which articles are appropriate for genuine news-casting. Up to that point, this assignment had been passed on to editors. Thus, it will be kept from showing up on the landing page.
Sitecore, another product organization, likewise utilizes AI to enhance business measures. It focuses on viable administration, easing out creation, and modularizing content for reuse.
Right now, AI drives Sitecore's automatic content labeling and picture sourcing. This shows the capability of AI advancing sites and improving promoting groups' effectiveness.
Conclusion
Most of the global leaders across various industries have started adopting AI and ML to gain an edge.
AI in SEO has started putting the magic in action and is on the verge of a big revolution in the industry. If you wish to stand apart, start adopting AI and this technological revolution in SEO.
The arrival of AI and ML in the last few years has changed how we look at the web and the Internet. With AI and ML, we can now look at the web in a more meaningful way.
With AI-powered tools, we get more insights into our websites and optimize them better. We have seen some AI/ML-based tools, and the future looks more promising for SEOs and webmasters.
I hope you enjoyed the blog and found the information useful. Contact us if you also wish to align your business growth with AI and ML-based SEO strategy.
We are waiting to see you grow with us!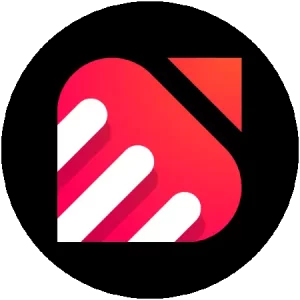 EvenDigit
EvenDigit is an award-winning Digital Marketing agency, a brand owned by Softude (formerly Systematix Infotech) – A CMMI Level 5 Company. Softude creates leading-edge digital transformation solutions to help domain-leading businesses and innovative startups deliver to excel. We are a team of 70+ enthusiastic millennials who are experienced, result-driven, and hard-wired digital marketers, and that collectively makes us EvenDigit.
Read More