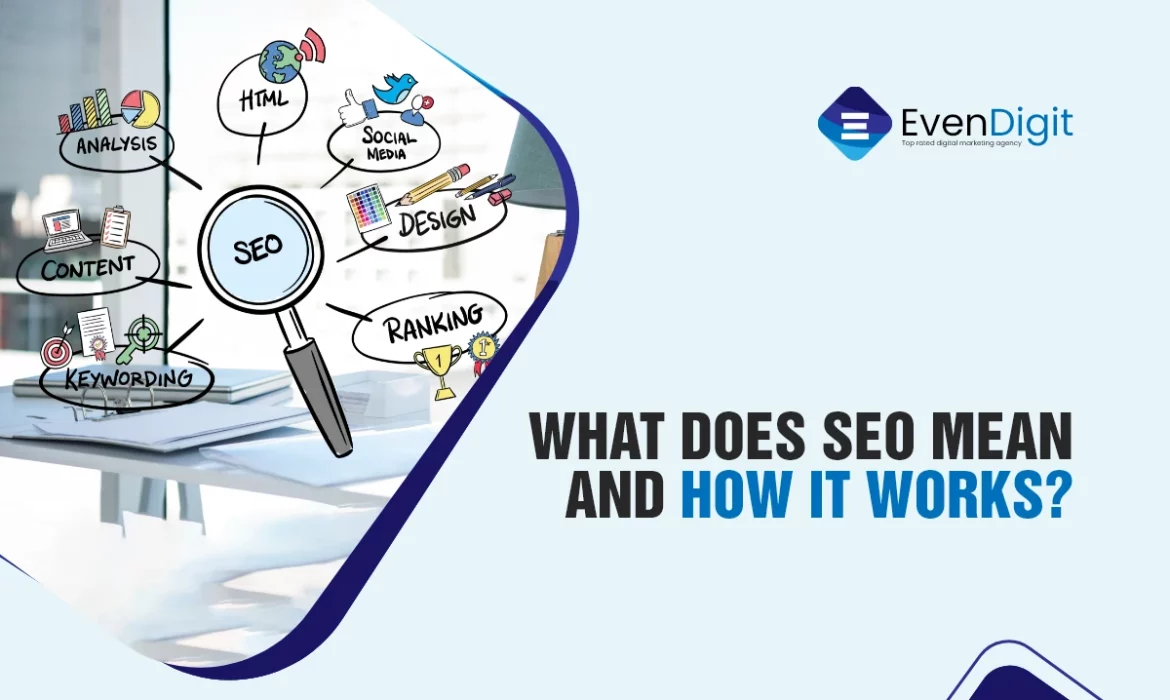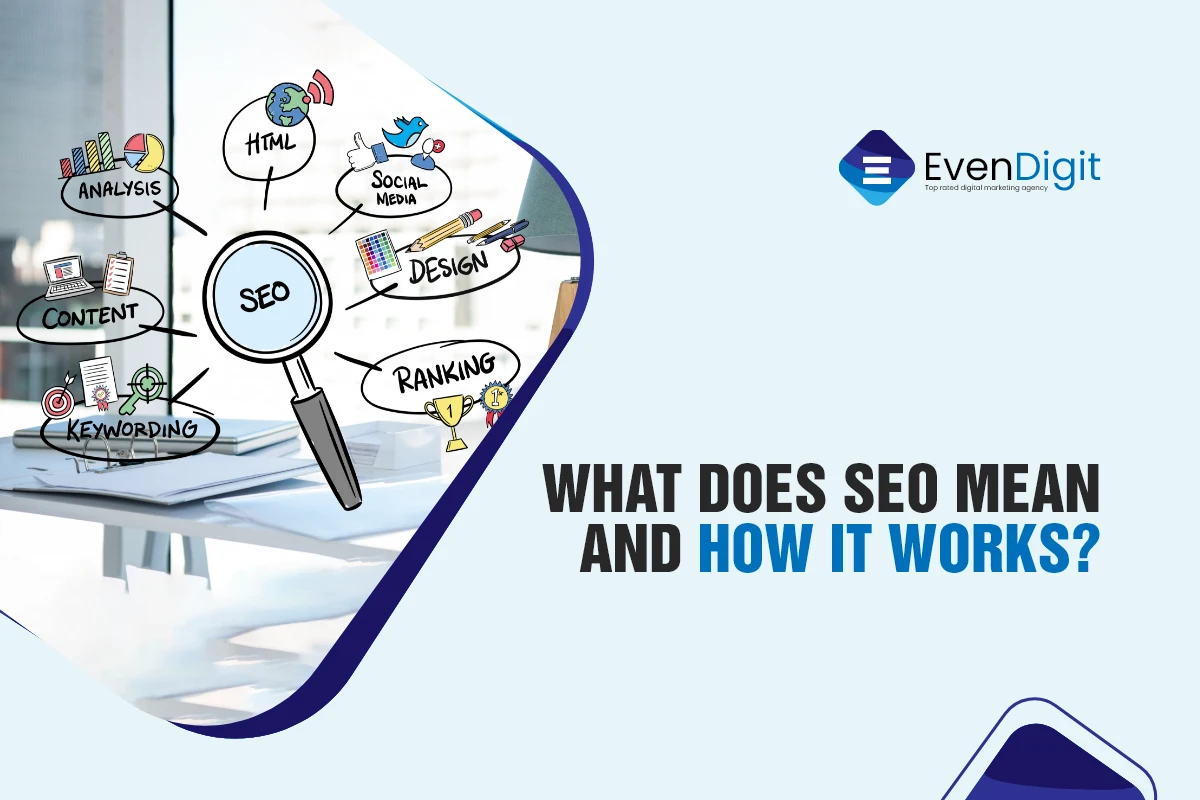 Why do you use Google?
Because you trust Google, as it always shows relevant and genuine results for your query.
The primary purpose of search engines is to provide users with relevant solutions about what they are looking for.
But when you are not just a user but also a provider, getting shown in the relevant query becomes necessary. From here, Search Engine Optimization (SEO) comes into play.
To know all about SEO, SEO meaning in digital marketing, or What is on-page SEO and off-page SEO? Read the entire blog till the end.
What is SEO Optimization?
The science of optimizing a website to make it more visible when users search for queries, products or services is known as search engine optimization. The likelihood of a website being discovered by search engine users increases with its visibility.
In simple words, SEO is the method of making websites as relevant, effective, or functional as possible for search engines. Overall, this digital marketing strategy aims to generate revenue and growth for your company through increased online visibility.
How Does SEO Work?
Crawlers are used by search engines such as Google and Bing to collect information on all content available on the Internet. After starting with a known web page, the crawler follows internal links to other pages within the same site and external links to other sites.
When a user writes or voices a query into the search box, the search engine employs complex algorithms to provide what it judges to be the most accurate and relevant set of results for that query. These organic results may contain text-based web pages, news stories, photos, videos, local company listings, and more specialized content.
The crawler can comprehend each website's subject and how it is semantically related to every other page in the search engine's enormous database, known as an index, thanks to the content on those sites and the context of the links followed.
What Algorithms Evaluate in Search Engine Optimization?
The ranking of websites in the SERPs is determined by various criteria. The algorithm has predefined rules that are evaluated to measure the compatibility of the website. Here are some of the major factors that the algorithm evaluates:
1. The Intent Of The Query
The query's intent is the major factor that helps algorithms return the most relevant results to the users. The algorithm understands the language, spelling mistakes, synonyms, and more to distinguish between homonyms to provide the correct results as quickly as possible.
Let's say anyone searches for the word "Lie" as by the intent; there can be two meanings, first is to say things that are not true, and the second is horizontal or resting position.
The intent would be to display the correct information based on additional search terms, historical search, location search, and more.
2. Relevance Of Web Pages Regarding The Query
Just like analyzing the query's intent, the algorithm also evaluates the relevance of web pages. The web pages' content helps the algorithm decide whether the site contains relevant information to what a user is looking for.
The basic or primary evaluation is based on the availability of the appropriate keywords on the webpage. The algorithm analyzes the relevant keywords that are included in the query.
And beyond, there is more to the evaluation process, including using aggregated interaction data to determine whether the page is relevant or not.
3. Quality, Depth, and Uniqueness Of The Content
The algorithm prioritizes the content's quality and always chooses the most reliable and trustworthy content in relation to the intent.
The webpages that demonstrate expertise, trustworthiness, and authoritativeness are more likely to be prioritized than those that don't.
Search engines insist on the most trustworthy sites they can find. The algorithm's intelligence can determine which pages exhibit knowledge, authority, and credibility concerning intent.
4. Usability of Web Pages
Website design, loading speed, and other accessibility are majorly in search engine optimization.
The algorithm ranks websites based on how the site appears in different browsers and whether it is designed for all types of devices, such as desktops, tablets, and smartphones.
The loading speed also greatly impacts the search ranking, which is evaluated by the algorithm and helps decide whether the website is user-friendly.
5. Context and Settings
Context-based on past search history and search settings help algorithms determine the most personalized and best relevant results for users' queries.
Country and region-related search settings help algorithms show more relevant results.
For example, the keyword "black shirt" will show different results in New England and completely different when searching from England.
6. Authority
A page's authority is determined by the value given by a search engine to that page. A higher number indicates that search engines will more prominently feature a web page in organic search results.
Fundamentally, authority indicates that your website is reliable, of high quality, appropriate, and contains something to offer.
Scores vary from 1 to 100. The more elevated your score, the better authority you have over your site. While it is impossible to influence your PA rating, many SEO professionals think it has to do with link profiles – getting external links from trusted and well-visited sites.
Core Elements of SEO: Technical SEO, On-Page SEO, and Off-Page SEO
When it comes to broader SEO, there are three equally important paths: Technical SEO, on-page SEO, and off-page SEO, say, the types of SEO in digital marketing.
These core elements greatly impact search rankings and are determined as the major components. Implying them into your strategies will improve your SEO performance.
Technical SEO
Technical SEO is improving your website and server so that search engine spiders can scan and index your site more efficiently (to help improve organic SEO).
Some technical SEO techniques include: Using SSL, mobile-friendly optimization, increasing site speed, fixing duplicate content issues, creating XML sitemaps, enabling AMP, and more.
On-Page SEO
On-page SEO is optimizing and making changes in web pages and websites to enhance user experience and rankings.
Some On-page SEO techniques include: Integrating relevant keywords in a website, optimizing title and meta description, creating and uploading user-friendly content, optimizing images and URLs, Internal linking, and more.
Off-Page SEO
Off-page SEO refers to measures conducted outside your website to influence your search engine results pages (SERPs) ranks.
Some Off-page SEO techniques include: Generating valuable backlinks, guest content posting, social media marketing, forum posting, local listings, and more.
SEO Strategies: White Hat Vs. Gray Hat Vs. Black Hat
Strategies are the backbone of every marketing efficient outcome. The approaches or tactics used in SEO to increase the ranking of websites are distinguished by three strategies, i.e., Black, White, and Gray Hat SEO.
What Is White Hat SEO?
White hat SEO refers to following the legit optimization tactics authorized to improve a website's ranking on a search engine results page (SERP).
What Is Gray Hat SEO?
Using tactics that are not technically against Google's standards or SEO guidelines but may err on the side of what would be considered best practice is known as "gray hat SEO".
What Is Black Hat SEO?
Black hat SEO involves tactics against search engine policies to influence SERPs to rank better.
As per the definitions the main objective of all three strategies is to rank the website in SERPs and win the SEO game. Going for rapid gains in SEO is commonly known as "Black Hat SEO". Most people use black hat SEO strategies such as keyword stuffing and link scraping to rank faster. It may work in the short term to drive traffic to your site, but after a period, Google penalizes and even blacklists your site, making it impossible for you to rank.
On the other hand, a long-term internet business can only be built using white hat SEO. This approach to SEO focuses on your human audience. You'll aim to make them easily accessible by following search engine guidelines and providing them with the greatest quality of valuable content.
Gray hat SEO, as the name suggests, is halfway between white hat and black hat because their practices are ambiguous (as in black hat), and their terms and services do not comply with the terms and services of search engines, But don't deny it either. Gray hat SEO strategies do not follow Google's criteria but are allowed.
4 Key Differences Between Paid and Organic Search
Before proceeding to understand the difference between paid and organic search, it is necessary for you to understand "What is organic traffic"?
The term "organic traffic" refers to users who visit your website as a result of unpaid search results. Organic traffic is the inverse of sponsored traffic, which refers to the visits received by paid ads.
Let's look at four major differences between organic and paid searches to get better clarity:
1. By Positioning
A major difference between paid and organic search results is that paid results appear at the top of SERPs.
2. By Timing
Paid search generates near-instant results, often in minutes, but organic search produces results that take weeks, months, or even years.
3. By Payment
You purchase traffic for your page by paying Google to display your ad when a visitor searches for relevant terms. While organic search traffic is free, it requires time and effort.
4. By Traffic Share
When it comes to traffic, typically, 20% to 30% of searchers click on sponsored results, while 70% to 80% click on SEO results. As a result, organic results get the most clicks.
3 Interesting SEO Facts 2022
If your webpage takes 2 seconds to load, bounce rates increase by 9%, and if it takes 5 seconds, bounce rates increase by 38%.
86% of users choose not to click on sponsored banner ads and instead check only organic search results.
SEO and organic traffic provide more leads than any other marketing strategy, according to 61% of B2B marketers.
Source:https://inter-growth.co/seo-stats/
7 Simple Ways To Improve Your SEO?
However, SEO combines several processes, and an effective approach is required to rank the website in the SERPs. Every core element approach should be on target to improve your SEO.
Here we are sharing seven easy ways to adopt them in your current SEO strategies that will help you perform well:
Use relative niche keywords in the content
Write a unique title and compelling meta description for every page
Add internal links for the proper structure of your website
Optimize website loading speed
Optimize the website for mobile devices
Optimize images and use alt tags
Include heading tags H1, H2, H3..H6 in the content
Why Is SEO Important For Your Business?
There are approximately 8.5 billion daily searches on Google, and most of the search intent is related to products and services.
Being a business, SEO is the most important element to add to your digital marketing operations to increase your brand awareness, credibility, and visibility.
When you engage in search engine optimization for your website, you are investing directly in your business visibility and revenue. So, regardless of what occurs tomorrow, if your SEO is steady, you can rely on that exposure to assist your organization in growing and prospering.
Search Engine Optimization can be lengthy, but it also brings business in the long run along with establishing a strong online presence.
Conclusion: Attain the Apex Position In SERPS with EvenDigit
You now have a finer sense of the importance of SEO in digital marketing, and you will be able to grasp SEO's meaning in business easily.
With 17+ years of expertise and a team of highly skilled professionals, EvenDigit will help you to increase your business with organic visibility, visitors, and leads. Get in touch with us now!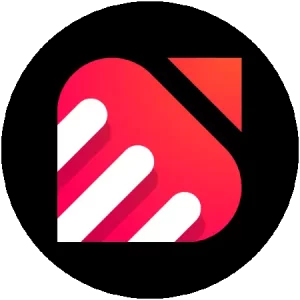 EvenDigit
EvenDigit is an award-winning Digital Marketing agency, a brand owned by Softude (formerly Systematix Infotech) – A CMMI Level 5 Company. Softude creates leading-edge digital transformation solutions to help domain-leading businesses and innovative startups deliver to excel. We are a team of 70+ enthusiastic millennials who are experienced, result-driven, and hard-wired digital marketers, and that collectively makes us EvenDigit.
Read More