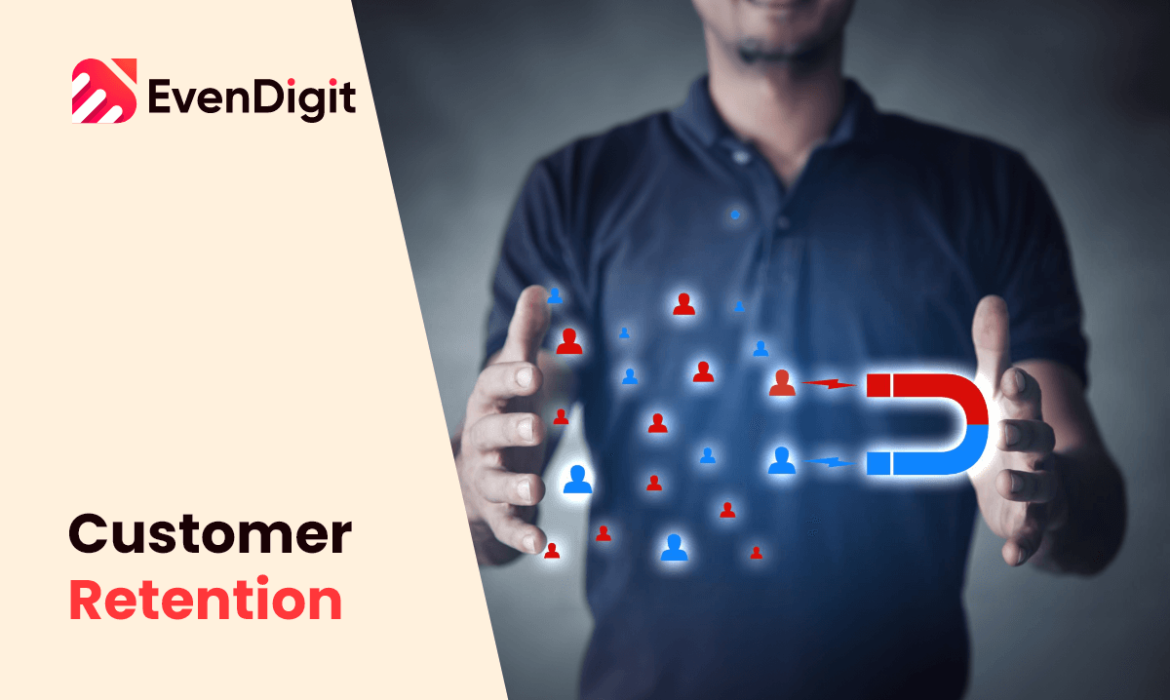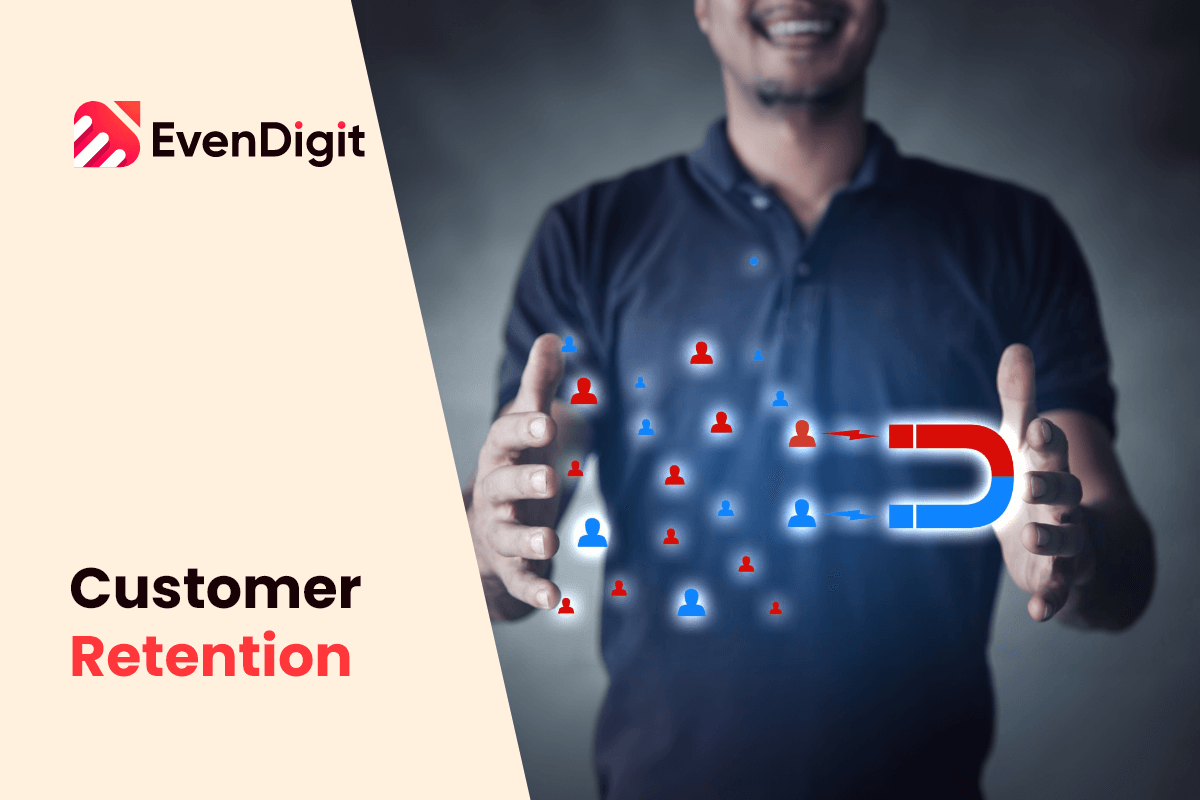 In today's competitive business landscape, acquiring customers is just the first step. The real challenge lies in retaining those customers and building long-term relationships.
Customer retention is a critical metric that businesses need to prioritize to ensure sustainable growth.
In this article, let's deeply understand the concept of customer retention, how to measure it effectively, and, most importantly, the strategies you can implement to keep your customers coming back.
What is Customer Retention?
Customer retention is a company's ability to maintain existing customers while preventing them from switching to competitors.
It signifies that customers find value in the company's products, services, or brand, compelling them to continue their relationship with the business.
The Importance of Customer Retention
Customer retention is a vital key performance indicator (KPI) for any business. Retaining current customers is not only less expensive than acquiring new ones, but it also leads to higher profitability.
Measuring Customer Retention
Calculating Customer Retention Rate
To effectively improve customer retention, it is crucial to measure and track your customer retention rate.
The customer retention rate is estimated using the following formula:
Calculating Customer Retention Rate
To effectively improve customer retention, it is crucial to measure and track your customer retention rate. The customer retention rate is calculated using the following formula: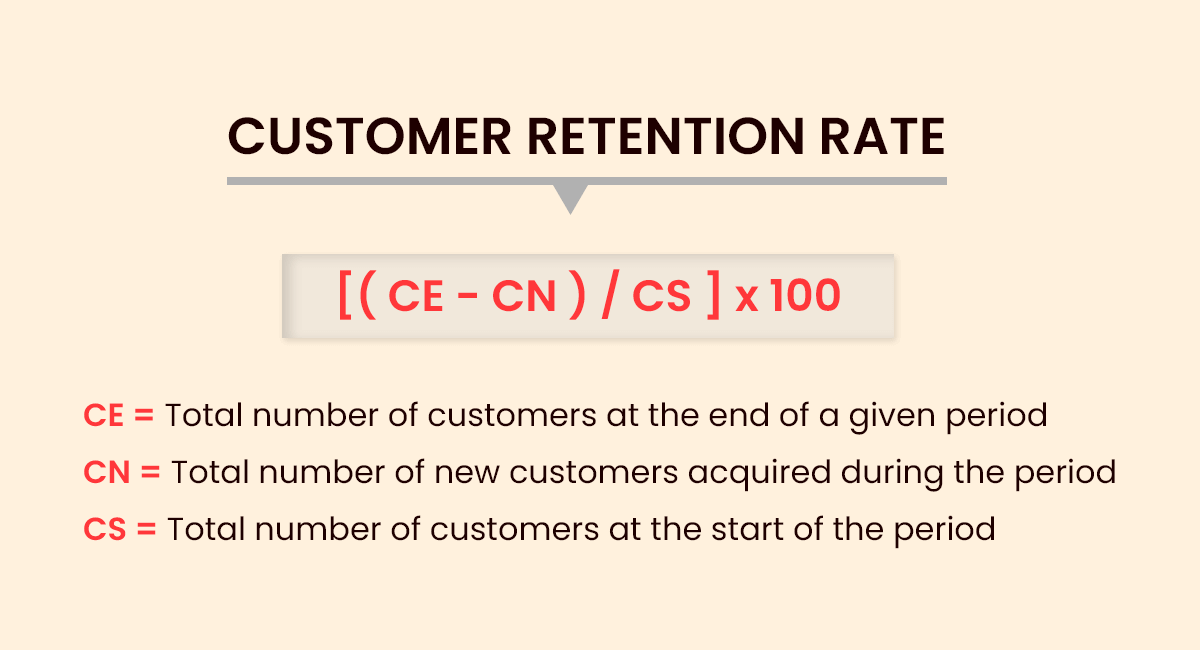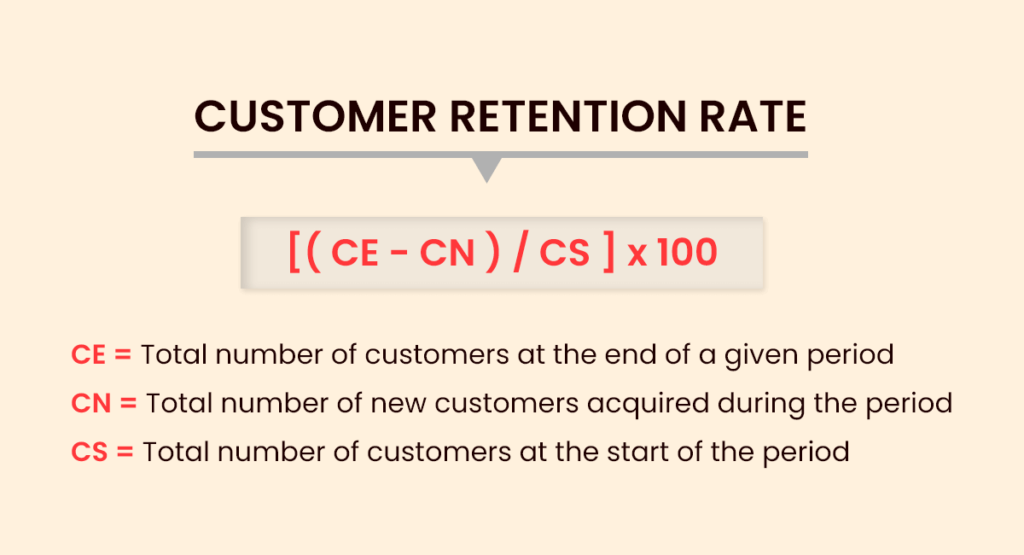 Where:
CE: Total number of customers at the end of a given period
CN: Total number of new customers acquired during the period
CS: Total number of customers at the start of the period
Let's consider an example to illustrate this calculation.
Suppose you start the year with 1,000 customers, acquire 300 new customers, but lose 200 customers along the way. At the end of the period, you have 1,100 customers.
The calculation would be as follows:
1,100 – 300 = 800 800 / 1,000 = 0.8 0.8 x 100 = 80%
Benchmarking Your Retention Rate
While it's essential to calculate your customer retention rate, it's equally important to benchmark it against industry standards and your own goals.
A retention rate of 80% may be considered excellent in some industries but below average in others. Contextualize your retention rate by considering industry benchmarks and setting realistic goals for improvement.
4 Effective Customer Retention Strategies
Now that we have a clear understanding of customer retention and how to measure it, let's explore four effective customer retention strategies that can help you keep your customers coming back.
1. Smooth Onboarding Process
The first impression is crucial in building long-term customer relationships. A smooth onboarding procedure sets the foundation for a positive customer experience.
Personalize the onboarding experience as much as possible, remove friction, and ensure that customers can easily navigate your products or services.
By providing a seamless onboarding process, you increase the likelihood of customers staying with your company for the long term.
2. Creating a Customer Feedback Loop
Comprehending how your consumers feel about your products or services is critical for improving customer retention. Implement a customer feedback loop where you regularly collect feedback, analyze it, and take action based on the insights gained.
Use customer surveys, such as Net Promoter Score (NPS), to gauge customer sentiment and identify areas for improvement.
Closing the feedback loop by responding to customer feedback and taking visible action builds trust and strengthens customer relationships.
3. Keeping Products and Services Top of Mind
Even after the initial purchase, you need to be at the front of the customer's mind to keep them coming back.
Implement customer retention strategies such as regular communication through email newsletters, social media contests, and valuable content creation.
By consistently engaging with your customers, you remind them of the value your products or services offer, increasing the chances of repeat purchases and long-term loyalty.
4. Rewarding Promoters and Loyal Customers
Customers that are valued are more inclined to stay with your brand. Implement a customer loyalty program or reward system to show your gratitude for their continued support.
Consider offering exclusive discounts, personalized bonuses, or milestone rewards to customers who have been with you for a certain duration or have referred others to your business.
By demonstrating your appreciation, you strengthen the bond with your customers and enable them to stay loyal.
Final Words!
Customer retention is a critical aspect of building a successful and sustainable business. By understanding the importance of customer retention, measuring it effectively, and implementing the right strategies, you can foster long-term customer relationships and drive business growth.
Smooth onboarding processes, creating a customer feedback loop, staying top of mind, and rewarding loyal customers are all key strategies to improve customer retention rates.
By prioritizing customer retention, you can create a dedicated customer base that not only supports your business but also becomes an advocate for your brand.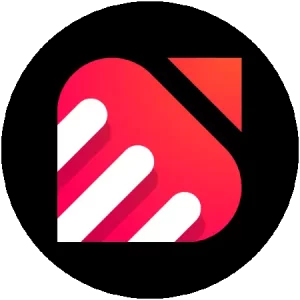 EvenDigit
EvenDigit is an award-winning Digital Marketing agency, a brand owned by Softude (formerly Systematix Infotech) – A CMMI Level 5 Company. Softude creates leading-edge digital transformation solutions to help domain-leading businesses and innovative startups deliver to excel. We are a team of 70+ enthusiastic millennials who are experienced, result-driven, and hard-wired digital marketers, and that collectively makes us EvenDigit.
Read More