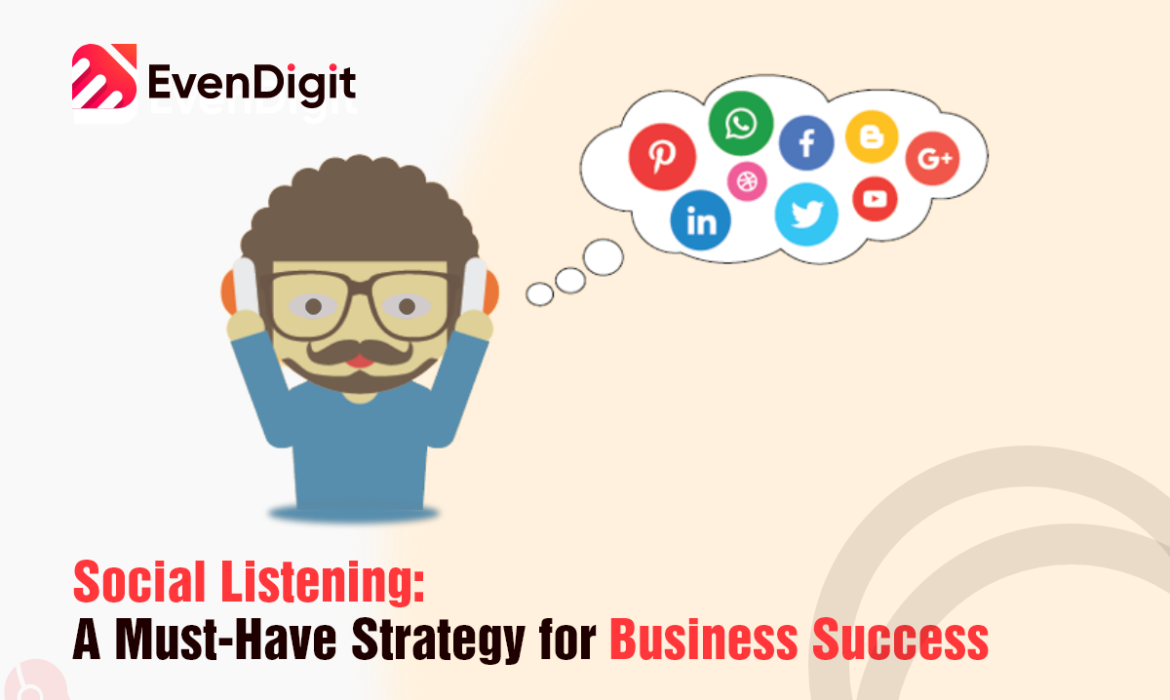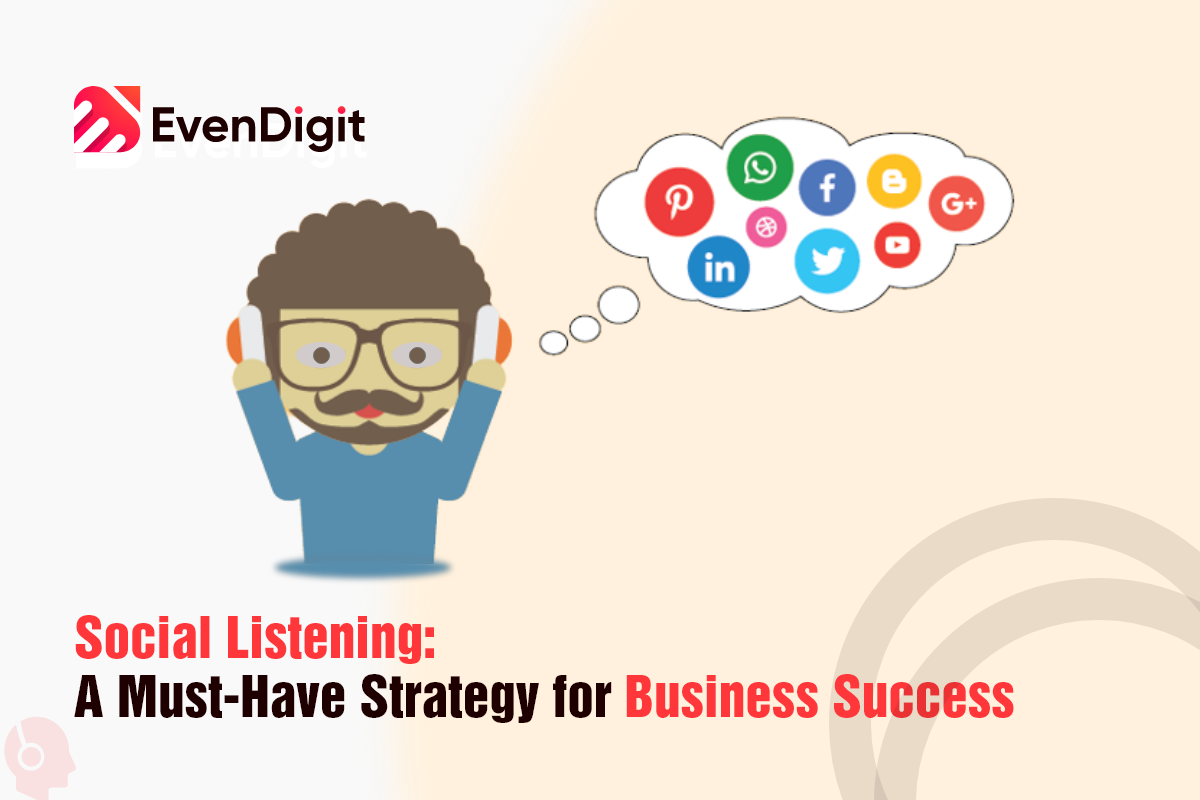 Imagine you own a bakery, and you constantly take feedback from customers about what flavors of bread they adore, and as per their suggestions, you do modifications and upgrades in your products.
This type of practice in digital marketing is known as social listening. Even big tech companies use this strategy to stay ahead of their competitors.
By listening to people's opinions about their products, services, and competitors, they develop innovative ideas and leave their competition spellbound.
In a digital world where over 3.6 billion people are engaged in social media, and an estimated 54% of them use these platforms to research products, the importance of social listening cannot be overstated.
It is like dancing to the rhythm of your customers' emotions. It helps you understand what they love and need so you can create loyal fans who keep coming back for more.
Intrigued? Dive into this comprehensive social listening guide to discover how to shape your marketing strategies, enhance customer experience, and lead your business to unparalleled success.
What is Social Listening?
Social listening, abbreviated from social media listening, is a strategic process businesses employ to gauge public opinion about their brand, products, or services online.
The process involves diligent monitoring of social media channels to capture and analyze mentions, comments, and discussions related to the entity in question.
By actively engaging in social listening, companies gain practical insights into how their brand is perceived, what customers say about their products or services, and how they compare to their competitors.
Why is Social Listening Important?
The primary purpose of social listening is to gain actionable insights that drive informed business decisions. These insights influence marketing strategies, product enhancements, and customer service improvements and even spark opportunities for growth and innovation.
Recent studies show that 71% of consumers with a positive experience with a brand are inclined to recommend it to others. In comparison, 91% of those with negative experiences are less likely to do business with the brand in the future.
Social listening allows businesses to promptly address customer feedback, turning negative experiences into positive ones and fostering stronger brand loyalty. Let's explore in-depth below why social listening is important:
Understanding Customer Sentiment
Social listening helps businesses grasp customer feelings towards their brand, products, and services. It uncovers positive feedback, such as praise, and negative feedback, such as complaints, allowing companies to address concerns and enhance the customer experience.
Identifying Brand Advocates and Influencers
Through social listening, businesses spot passionate brand advocates who spread positive word-of-mouth and influence others. Additionally, it identifies industry influencers for potential collaborations and increased brand reach.
Monitoring Competitor Activities
Social listening keeps businesses informed about competitor strategies, strengths, and weaknesses. Understanding customer perceptions helps refine offerings and maintain a competitive edge.
Tracking Industry Trends
Social listening keeps businesses updated on industry trends, customer preferences, and challenges. This valuable information aids in adapting strategies, developing new products and staying relevant in a dynamic market.
The Difference Between Social Listening and Social Monitoring
Are you also a bit puzzled about the difference between social listening and social monitoring? Because the majority of people get confused over the terms as well as functioning, but they're different. Let us break it down for you with examples!
Social Media Monitoring
Social media monitoring tracks and gathers data on specific brand mentions or keywords. It is more reactive, focusing on immediate responses to customer inquiries or complaints. Social monitoring alerts businesses when their brand is mentioned online, allowing them to address any issues or negative sentiments quickly.
Case Study: How a Smartphone Company Used Social Monitoring to Overcome New Model Issues?
A popular smartphone brand (not to mention the name, but let's tell it X) received multiple customer complaints on social media about a malfunctioning feature in one of their devices.
With X's social monitoring approaches, the brand's customer support team swiftly identified these complaints, monitored where they were made, and guided customers to reach reliable portals to register their queries.
Once the customer gets a response from a reliable source and sends a query on an authentic platform, the X then responds with troubleshooting solutions. This proactive approach addressed customer grievances and showcased the brand's commitment to customer satisfaction.
Social Media Listening
On the other hand, social listening takes a more proactive approach by tracking brand mentions and analyzing the underlying sentiment and context of those mentions.
Social listening provides a broader view of online conversations and helps businesses understand the reasons behind customer sentiments. It involves analyzing the data collected to identify trends, patterns, and opportunities for improvement.
Case Study: How an Electronics & Fitness Brand Implemented Social Listening to Enhance User Experience?
Fitbit, a leading wearable technology company, relies on social media listening to monitor customer sentiment and guide product development. By closely monitoring social media channels, they provide prompt customer care, aiming to create delight and loyalty.
Through social listening, Fitbit identifies emerging problems, improves troubleshooting, and provides valuable insights to product teams. As a result, features like "Reminders to Move" were inspired by customer requests, enhancing user experience and encouraging physical activity.
Vertical Analysis
Social Monitoring and Social Listening play crucial roles in understanding customer sentiments and improving brand strategies. While social monitoring enables timely responses to immediate brand mentions, social listening delves deeper into the emotional context of customer conversations, providing invaluable insights for informed decision-making.
How Social Listening Works?
Social listening has emerged as a game-changing tool across a spectrum of industries and sectors, substantially impacting data-driven decision-making.
In the healthcare domain, institutions have harnessed social listening to extract real-time patient feedback and sentiment analysis, refining medical services and enhancing patient experiences.
In the e-commerce landscape, sophisticated sentiment analysis has empowered brands to gauge consumer reactions, optimizing marketing strategies and personalized targeting.
Furthermore, financial institutions have capitalized on social listening to track market trends, gain competitive insights, and steer investment decisions.
The adaptability and precision of social listening render it a pivotal instrument in driving innovation and fostering customer-centricity within diverse technical sectors.
Now, you may be curious to know how to implement social listening into your marketing strategies, so let's begin by understanding how it works. Social listening involves three main steps:
Monitoring
The first step in social listening is surveying social platforms for mentions of your brand, keywords, competitors, and industry-related topics.
This can be done manually by checking social media sites regularly or by using social listening tools that automate the process. Monitoring allows businesses to gather data on customer conversations, industry trends, and competitor activities.
Analysis
After collecting the data through monitoring, the next step is analysis. Businesses must examine the data to gain insights and understand customer sentiments, preferences, and pain points.
This involves using social listening platforms or tools to analyze the data collected and provide valuable insights such as sentiment analysis, keyword analysis, and trend identification.
Response
Once the data has been analyzed, businesses can formulate a response strategy. This can involve addressing customer concerns, improving products or services based on feedback, engaging with customers who have mentioned the brand, or refining marketing strategies based on the insights gained.
The response phase is crucial as it allows businesses to take action and make changes based on the information gathered through social listening.
How to Get Started with Social Listening?
Follow the below steps; this approach will work as an effective strategy to incorporate social listening into your marketing tactics:
Understand Your Audience
Gain a precise understanding of your intended audience and their preferences. This will help you tailor your social listening efforts to gather relevant data and insights.
Define Objectives and Goals
Before diving into social listening, it is important to define the objectives and goals of the practice. Determine what you want to achieve through social listening, whether improving customer satisfaction, identifying brand advocates, or staying updated on industry trends.
Choose the Right Social Listening Platforms
Selecting the right social listening tools is crucial for effective monitoring and analysis. Various social listening platforms, such as HubSpot, Sprout Social, and Hootsuite, are available. These tools offer sentiment analysis, keyword tracking, and competitor analysis. Choose a tool that is compatible with your goals and budget.
Define Keywords and Topics
Identify the keywords and topics you want to monitor. These include your brand name, product name, industry-related keywords, competitor names, and relevant hashtags. By defining specific keywords and topics, you can focus your social listening efforts on gathering relevant data.
Analyze and Interpret Data
Once you start collecting data through social listening, examine and interpret the data to gain insights. Look for patterns, trends, and sentiments in customer conversations. Identify areas for improvement, opportunities for engagement, and emerging industry trends.
Take Action and Respond
Based on the insights acquired from social listening, develop a response strategy. Address customer concerns, engage with customers who have mentioned your brand, and make necessary changes to improve customer satisfaction. Use the information gathered to refine your marketing strategies and stay ahead of your competitors.
Social Listening Strategy: Best Practices to Follow
To make the most out of social listening, businesses should follow these best practices in their marketing approach:
Monitor Brand Mentions: Be active on social media platforms where customers discuss your brand, products, and services. Track mentions gauging customer sentiments.
Analyze Hashtags and Keywords: Keep an eye on trending hashtags and industry-specific keywords used by your audience. This provides valuable insights into emerging trends.
Engage with Customers: Interact with customers who mention your brand. Respond to feedback, address concerns, and show that you value their opinions.
Explore Niche Communities: Look for niche communities and forums where your target audience shares their experiences and opinions.
Leverage User-Generated Content (UGC): Pay attention to user-generated content that showcases positive interactions with your brand. Repost and share UGC to foster community engagement.
Monitor Industry Influencers: Follow industry influencers and analyze their conversations. Influencers can provide insights into customer preferences and market trends.
Track Competitor Conversations: Monitor discussions about your competitors to understand their strategies and customer perceptions.
Utilize Social Listening Tools: Consider using social listening tools that efficiently gather and analyze data from various platforms.
Refine Strategies Based on Insights: Use the gathered insights to refine your marketing strategies, improve products or services, and enhance customer experiences.
Social Listening in Digital Marketing: 5 Popular Tools
Social listening tools help businesses monitor and analyze social media conversations, gain insights, and make data-driven decisions. Here are some popular social listening tools:
Clarabridge is a CX management AI platform that helps businesses analyze customer feedback and sentiment across various channels, including social media.
HubSpot provides marketing, sales, customer service, and CRM software. Their social listening tools enable businesses to monitor and scrutinize social media conversations to gain insights.
Lately, it has been a social AI content and social media software that offers social listening features to help businesses track brand mentions and industry trends.
Sprout Social is a social media managing software that includes social listening capabilities. It allows businesses to monitor social media conversations, analyze sentiment, and engage with customers.
Hootsuite is a renowned social media marketing and management dashboard that offers social listening features. It enables businesses to monitor social media conversations, track brand mentions, and analyze customer sentiment.
FAQs on Social Media Listening
1. Is Social Listening Only for Big Businesses?
No, social listening benefits businesses of all sizes. It helps small companies understand their niche audience and respond to customer needs more effectively.
2. Can Social Listening Improve SEO?
Yes, social listening can indirectly impact SEO. By understanding customer preferences and trending topics, businesses can devise content that resonates with their audience and improves organic reach.
3. How Often Should I Engage in Social Listening?
Regularly monitoring social media is essential. The frequency depends on your brand's online presence and industry. Daily or weekly monitoring is typically recommended.
4. Is Social Listening Limited to Customer Feedback?
While customer feedback is crucial, social listening can also reveal insights about industry trends, competitor strategies, and broader market sentiment.
5. Can Social Listening Replace Traditional Market Research?
Social listening complements traditional market research but does not entirely replace it. It offers real-time, unfiltered insights, while traditional research provides more structured and in-depth data.
Wrapping Up!
The time to make a profound impact on your audience is now. Embrace social listening, seize every opportunity, and let your brand's story unfold into an epic tale of success.
Remember, the path to success is never a solitary one. At EvenDigit, we're passionate about empowering businesses to thrive in the digital landscape. If you ever need a guiding hand or expert insights, feel free to reach out to us at [email protected]. We're always here to support you on your journey.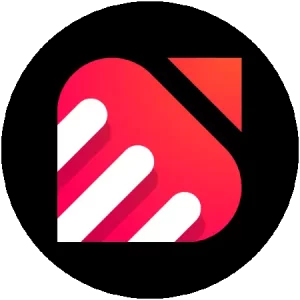 EvenDigit
EvenDigit is an award-winning Digital Marketing agency, a brand owned by Softude (formerly Systematix Infotech) – A CMMI Level 5 Company. Softude creates leading-edge digital transformation solutions to help domain-leading businesses and innovative startups deliver to excel. We are a team of 70+ enthusiastic millennials who are experienced, result-driven, and hard-wired digital marketers, and that collectively makes us EvenDigit.
Read More