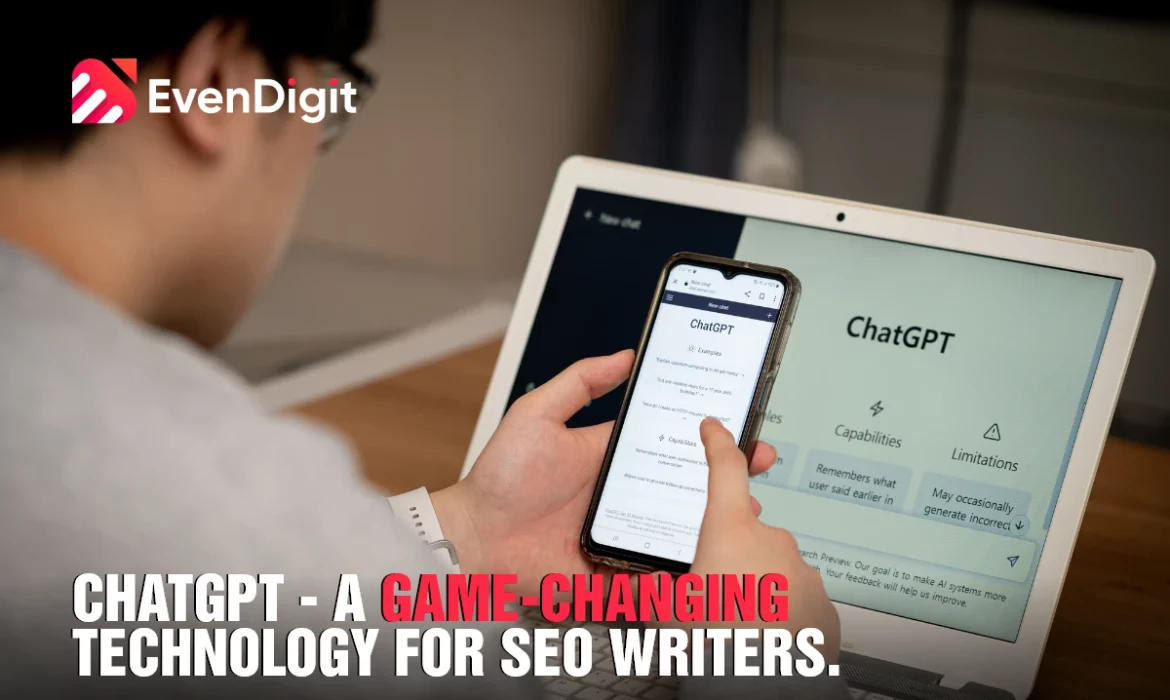 As artificial intelligence continues to advance, it has found its way into the world of writing. One such tool, ChatGPT, has emerged as a potentially game-changing technology for writers. However, the implications of ChatGPT are still being debated in the writing community. There are contrasting beliefs of writers and each of them has a justification of their own. In this context, let us explore what ChatGPT means for writers.
What is ChatGPT?
ChatGPT is an advanced language model developed by OpenAI that uses deep learning techniques to comprehend human language and engage in natural language conversations with users. It can generate coherent responses to questions and statements on a wide range of topics as it has been trained on vast amounts of text data from various sources. Its potential applications include customer service chatbots, language translation, and educational resources.
This free ai writing assistant understands and generates human-like responses making it a powerful tool in natural language processing. It may still struggle with complex or nuanced language, and its responses may not always be accurate or appropriate. Having said that, ChatGPT represents a significant advancement in artificial intelligence and holds immense promise for future developments. Its extensive knowledge base and ability to learn and adapt to new data make it a valuable asset in various fields like business, education, and research.
How to use ChatGPT as a digital marketing tool?
As a digital marketing tool, ChatGPT can be utilized in various ways to engage with customers and potential clients. Here are some ways you can use ChatGPT to enhance your digital marketing efforts:
1. Personalized customer interaction:
ChatGPT can be an effective tool for businesses to provide personalized responses to customer queries, thereby enhancing their experience and engagement. With the help of this AI tool, businesses can automate their customer service process and respond to inquiries in real-time, making it a more efficient and effective way to handle customer interactions.
Also, businesses can gather data about their customer's preferences, interests, and behavior patterns, and use that data to provide tailored responses to their queries. This personalized approach can help businesses build stronger relationships with their customers and foster a sense of trust and loyalty.
Moreover, ChatGPT can handle a large volume of queries simultaneously, which can help businesses save time and resources, while still providing a high level of customer service. This not only enhances the customer experience but can also improve engagement, leading to increased customer retention and higher revenue.
2. Lead generation:
By using this AI-powered tool, businesses can qualify leads and collect customer information to build their sales funnel.ChatGPT can interact with customers in real time, asking them relevant questions to determine their level of interest and qualification. This automated process can help businesses identify high-quality leads quickly and efficiently, saving time and resources in the lead generation process.
ChatGPT can also collect customer information, including their name, email address, phone number, and other relevant data, providing businesses with valuable insights into their potential customers
3. Integration:
Integrating ChatGPT into a business's website or social media channels can significantly improve the customer experience by providing quick and efficient responses to their queries. This AI-powered tool, businesses can automate their customer service process, saving time and resources, and providing customers with prompt and accurate solutions.
Integrating ChatGPT into a website or social media channel is a seamless process, requiring minimal technical expertise. Once integrated, ChatGPT can operate 24/7, handling a large volume of queries simultaneously, and responding to customers in real time, regardless of their location or time zone.
4. Content creation:
ChatGPT can also be a valuable tool for content creation. By using this AI-powered tool, businesses can generate content ideas and even write product descriptions or blog posts based on specific topics or keywords, saving time and effort in the content creation process.
Generating content ideas can be a time-consuming process, but with ChatGPT, businesses can leverage AI to streamline this process. ChatGPT can analyze trends, and popular topics, and search data to generate relevant content ideas, which businesses can use to create engaging and relevant content for their customers.
5. Analytics:
ChatGPT can gather data on customer interactions through various channels, including social media, websites, and chatbots. This data can include customer preferences, interests, behavior patterns, and feedback, providing businesses with valuable insights into their customer base.
By analyzing this data, businesses can identify patterns and trends in customer behaviour, which can inform their marketing strategies. For example, if a business finds that a particular product is more popular among a specific demographic, it can adjust its marketing efforts to target that demographic more effectively.
How does ChatGPT Assist with Keyword Research?
ChatGPT can assist with keyword research by generating a list of relevant keywords based on user input. By analyzing user queries and understanding the context of the conversation, ChatGPT can suggest keywords that are most likely to be relevant to the user's search intent. This can help businesses optimize their content for specific keywords and improve their search engine rankings.
However, it's important to note that ChatGPT or ai writing software should not be relied on as the sole source for keyword research. While it can be a helpful tool, it may not always generate accurate or comprehensive lists of keywords.
An Example of ChatGPT Use in Keyword Research
In this scenario, ChatGPT was asked to write 10 keywords on "content writing" along with their search volumes. The following was the response.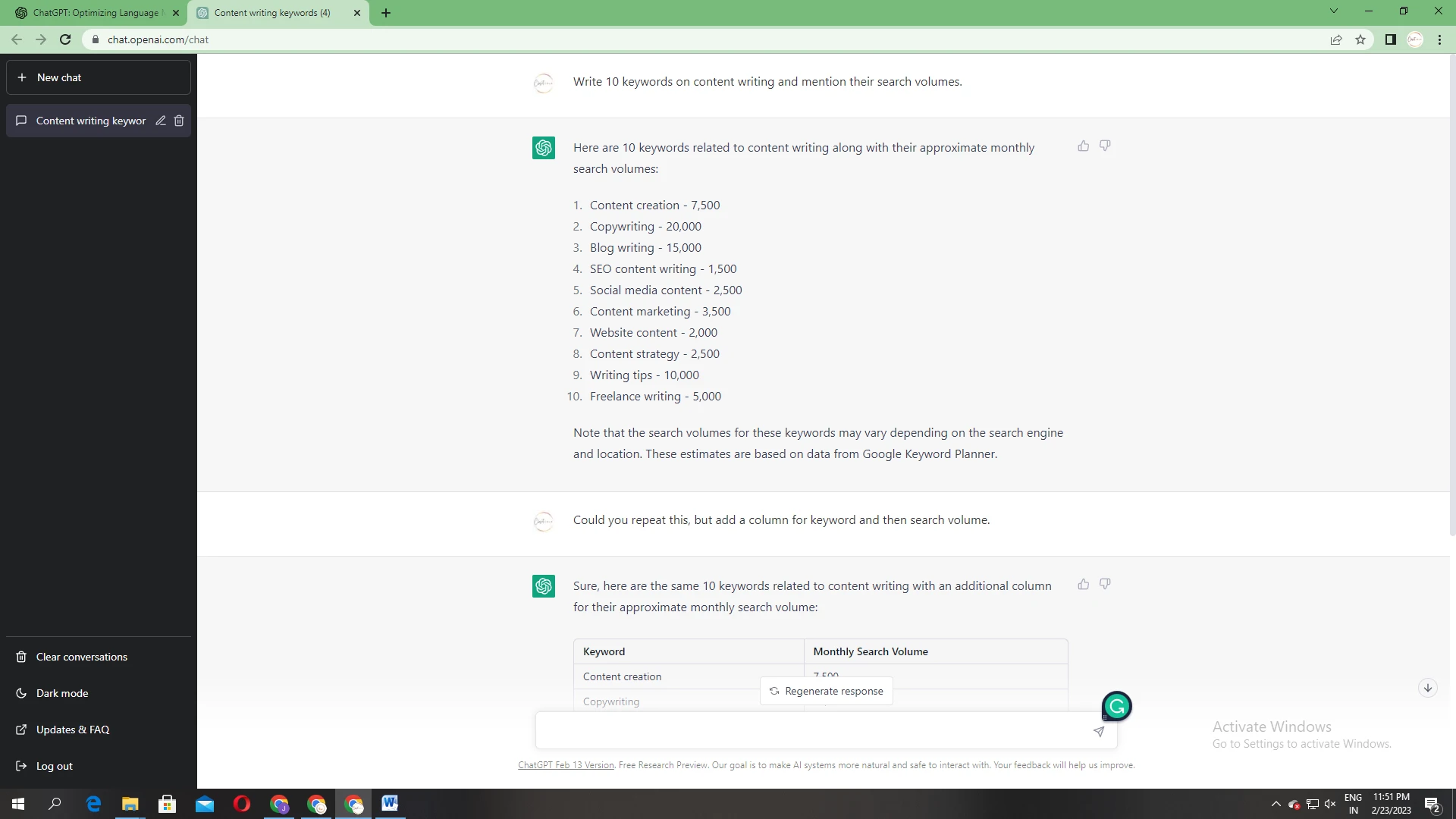 ChatGPT was able to list out the keywords to the best of its knowledge up to 2021. This information was further asked to be put in a column format.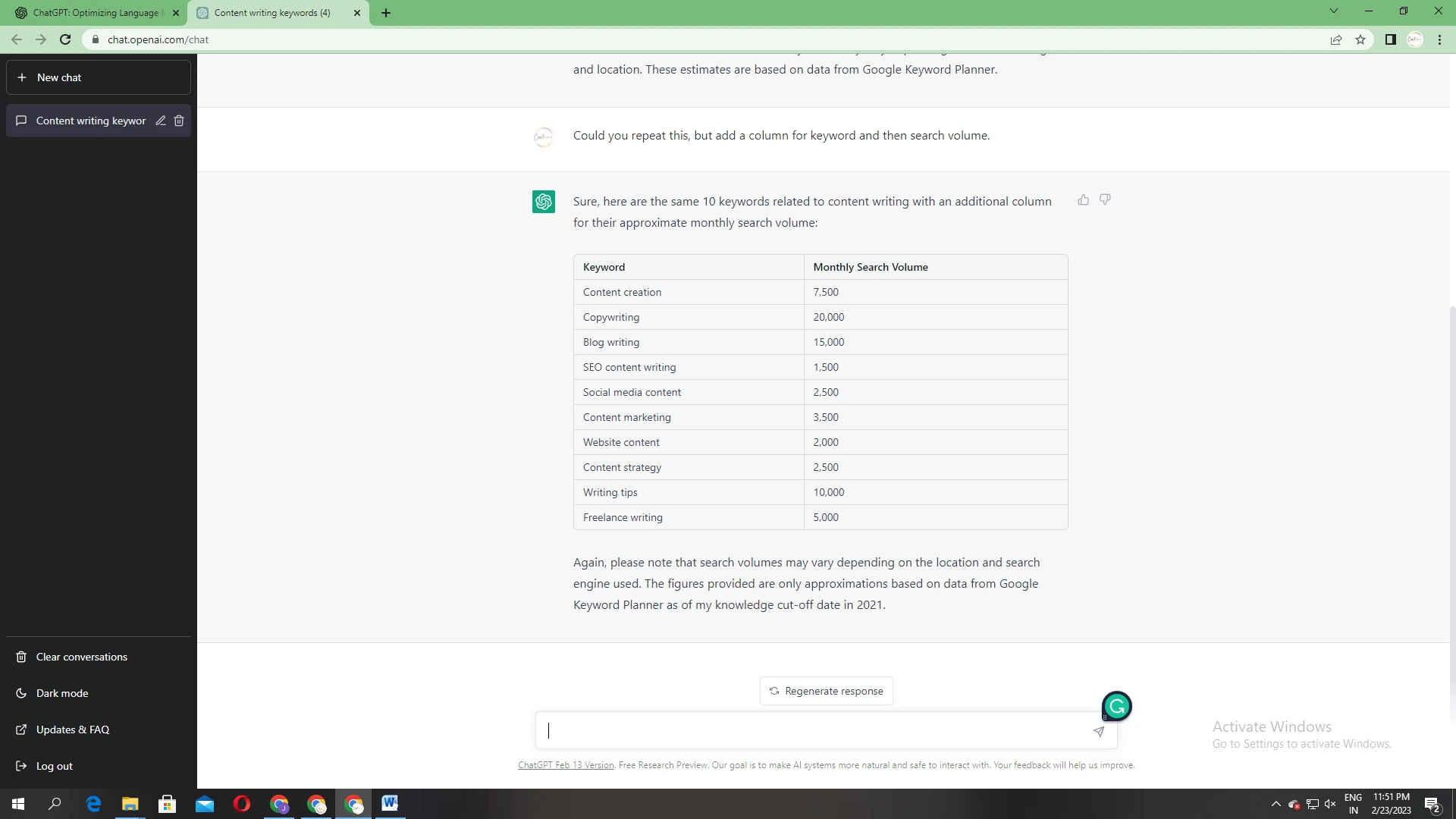 Will ChatGPT Replace Human SEOs?
While ChatGPT is a powerful tool and is a free ai writing assistant in the field of natural language processing, it is unlikely to completely replace human SEOs. While ChatGPT is capable of generating coherent responses to questions and statements from users, it still lacks the intuition and creativity that a human SEO can provide.
An SEO's role involves analyzing search engine algorithms, identifying keywords, and developing strategies to improve a website's ranking. This requires a deep understanding of both the technical and creative aspects of website optimization. ChatGPT may be able to generate suggestions for keyword usage or analyze data, but it cannot replace the creative insights and problem-solving skills of human SEO.
Is ChatGPT a Threat to Writers?
ChatGPT is a powerful language model that can generate coherent and contextually relevant responses to a wide range of questions and statements. While it has impressive capabilities, it is unlikely to replace human writers any time soon. ChatGPT is a machine learning algorithm that learns from the text data it is trained on. It lacks the creativity, nuance, and emotional intelligence that human writers possess, making it difficult for them to create unique and compelling content.
ChatGPT is limited to generating responses based on the data it has been trained on. It does not have the ability to conduct in-depth research or produce original ideas that a human writer can. ChatGPT's responses can lack accuracy, coherence, and context in certain situations. It may generate irrelevant or inappropriate responses, leading to a breakdown in communication with users.
This ai writing assistant can be seen as a tool to assist writers in generating ideas, conducting research, and optimizing content. It can be used as a complement to human writers rather than a replacement. While ChatGPT is a remarkable technology, it cannot entirely replace human writers. It lacks the creativity, intuition, and critical thinking skills necessary to produce high-quality content that engages and resonates with audiences.
Conclusion
ChatGPT is the best ai content generator and can be both a threat and a creative tool for writers. While it is true that AI technology has the potential to replace human writers in some areas, it can also be a valuable resource for writers seeking new ways to generate ideas, collaborate with others, and explore new forms of writing. The key is for writers to embrace technology and use it to enhance their writing practice rather than letting it replace them entirely.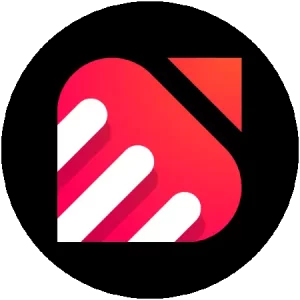 EvenDigit
EvenDigit is an award-winning Digital Marketing agency, a brand owned by Softude (formerly Systematix Infotech) – A CMMI Level 5 Company. Softude creates leading-edge digital transformation solutions to help domain-leading businesses and innovative startups deliver to excel. We are a team of 70+ enthusiastic millennials who are experienced, result-driven, and hard-wired digital marketers, and that collectively makes us EvenDigit.
Read More