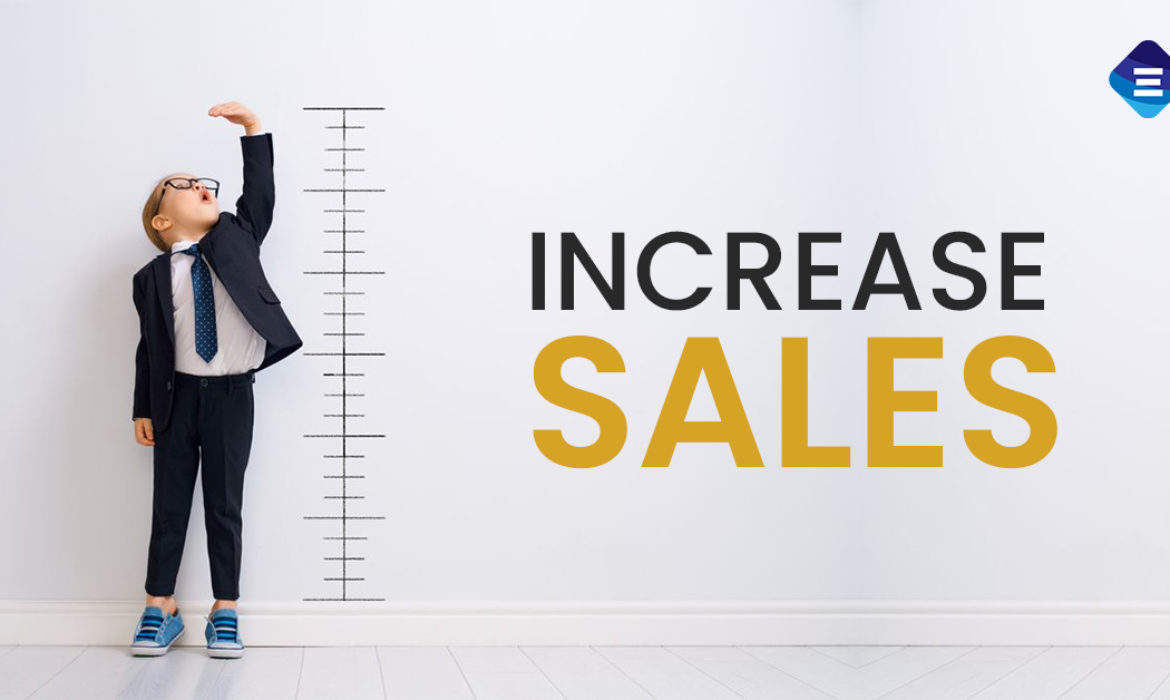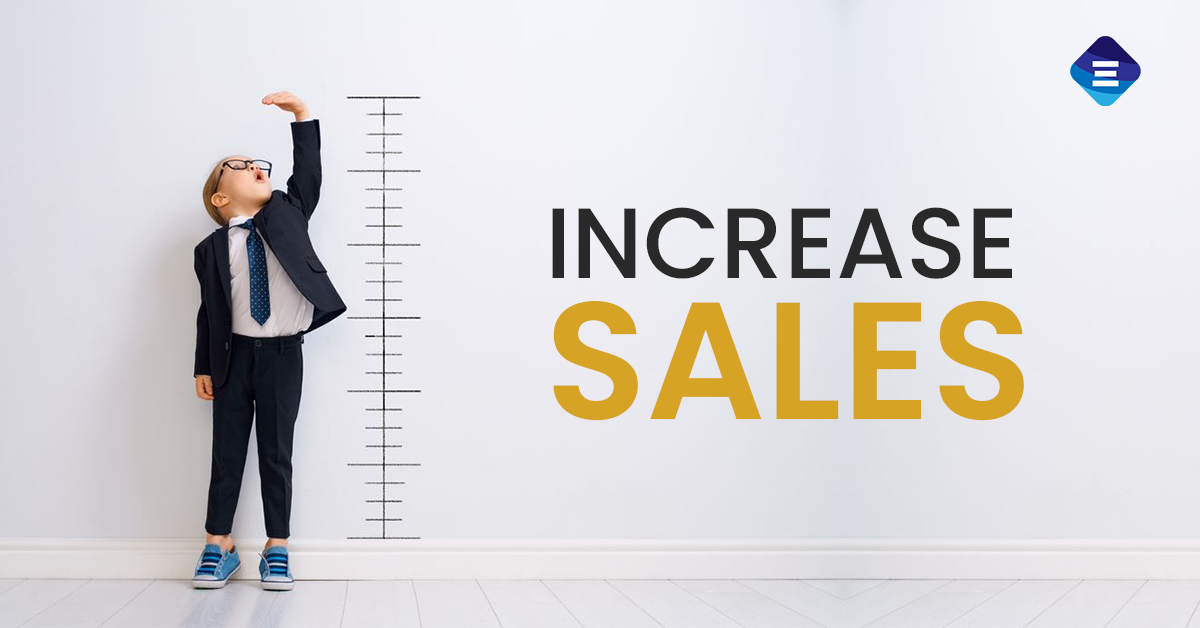 In 2019, there were 5.6 billion searches every day on Google, which has now increased to 8.5 billion per day in 2022. Similarly, Bing also has about 90 million daily searches.
Every business needs to have a website; otherwise, they surely will lag behind in this digital era. Having a website is not a big deal, but it is not everyone's cup of tea to bring traffic to it.
But what can you do to drive traffic to your website, increase its ranking, increase sales, and get a better ROI? The simple answer is Search Engine Optimization (SEO).
Why is SEO important?
More than 90% of people click on a website that appears on the first page of search engines, and SEO can take your business to new peaks by ranking on the first page.
To increase your business's sales through SEO, we share some tips on SEO strategies that will help you understand whether you are on the right track or need to make some changes in your strategies.
How Can You Increase Sales With SEO?
The business's growth depends on its sales; The more sales, the bigger the business will be. SEO marketing will play a major role in increasing your business's sales by implementing the right strategies.
Let's look at 7 ways that can help increase sales with SEO:
1. Efficient Keyword Research
The words and phrases entered in the search engine pages' search box are called keywords. The search engine shows relevant results for each query, so it is recommended to use appropriate and local keywords on your website for relevant traffic.
For Instance, If you are a cafe owner in Canberra, using "best cold coffee in Canberra", "best sandwich", and "best cafe in Canberra", kind of keywords will be appropriate to target the relevant and local customers.
Keyword research requires a lot of brainstorming and full knowledge of SEO, so taking the help of an SEO specialist would be the right decision.
2. Curate Awesome and Relevant Content
Keywords and content go together because keyword-rich content can do magic for your business but keep in mind that keywords will only drive traffic to the website. Still, it's good and optimized content that converts traffic into leads and conversions.
The content provided on the website helps the person to take action; hence it is important to provide informational content about the business and its products/services on the website.
You can present content on your website in various forms such as blogs, descriptive videos, infographics, eBooks, presentations, product descriptions, reviews, and much more based on business needs.
3. Take Advantage of Social Media's Potential
Over 4.6 billion social media users worldwide, making them great for marketing purposes.
Social media platforms stand as a great medium for brand awareness and help increase sales through "Direct Selling Features and Tabs" across multiple platforms.
Sharing blogs on social media, offers, news, educational posts, and product descriptions with images leads to brand exposure to the targeted audience and builds trust in the existing customers.
4. User-Friendly Site Design and Navigation
The users are always attracted by the look and feel of the website and anticipate what the business or brand will be like.
Hence the design and theme of the website should be user-friendly so that the user can easily understand the content on the website.The website's navigation should also not be complicated; otherwise, it will create high chances of increased bounce rates.
5. Plan an Integrated Strategy
SEO is not a set of formulas or rocket science that, by applying it, your business will reach new heights quickly.
SEO needs a lot of measures and time for both off-page and on-page. That's why in-depth knowledge and a solid strategy are required during the entire process. SEO requires many hours in a day to perform various tasks, so hiring an SEO agency for your business would be a smart move to get things done quickly and smartly.
6. Do Regular Website Audit
The website audit is an important measure to be done at regular intervals. It will improve the efficiency and visibility of the website, directly affecting the ranking.
If there are bugs, 404 errors, and broken links found on the website, the Google algorithm will directly affect the ranking. It will prioritize the competitor's website in the search engine result pages.
7. Go Local and Go Mobile
30% of overall mobile searches are related to a local area query, and 70% of users visit or contact a business after a local search.
Strategizing your website content with local keywords and languages, adding a local touch to them, and developing your website mobile-friendly will improve your business sales and ROI.
Case Studies
These companies have struggled to grow online in their early stages, and here's how they have benefited greatly from SEO:
1. Language Academy
The Institute of Language Solutions, located in Australia, provides the best quality education for international students. They struggled with almost zero traffic, retro website design, poor keywords, lack of content optimization, and poor ranking on Google Maps in local search queries.
But after hiring an SEO company, they have achieved 125K+ organic users and 1 million+ sessions on their website within 13 months. They rank top 3 in local listings in Google Maps and first place on the search engine results page for relevant keywords.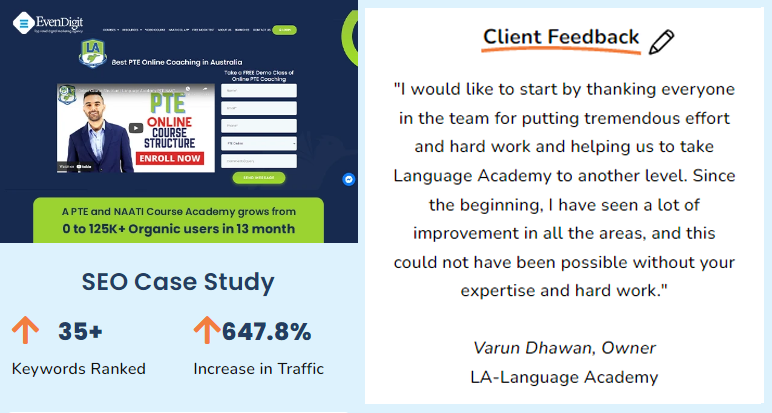 2. Pretty Little Designs
Pretty Little Designs was started by an Australian mom and provides products for organizing the kitchen, pantry, home, office, bathroom, laundry, and children's playroom. As a startup, they struggled to get backlinks on their website with poor navigation and poor keywords, and content optimization.
Their organic traffic has increased by 963%. After being managed by SEO experts, it ranks first in Australia for different short tail keywords like "spice jar" and "pantry label".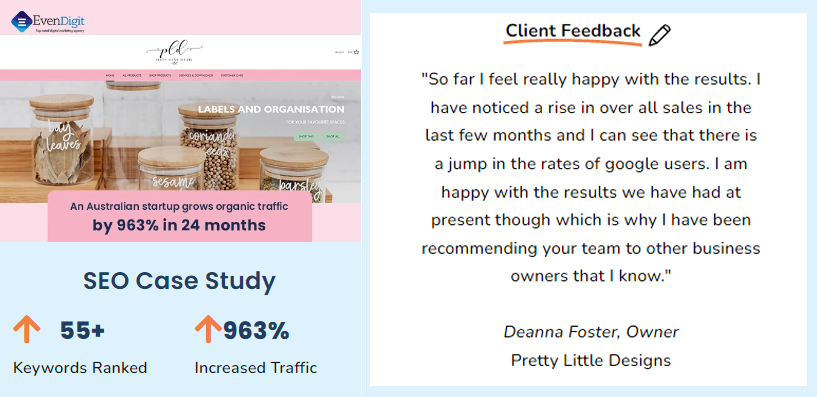 Conclusion
As the world is moving toward the digital ocean, SEO will help businesses maintain their digital presence and increase awareness, trust, sales, and ROI.
But handling SEO is impossible when handling business as it takes overall knowledge, many hours, various processes, and lots of effort. Hence, hiring an SEO company for your business would be ideal as they will provide all the SEO services and can easily increase sales and ROI in less time.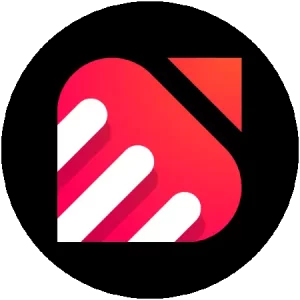 EvenDigit
EvenDigit is an award-winning Digital Marketing agency, a brand owned by Softude (formerly Systematix Infotech) – A CMMI Level 5 Company. Softude creates leading-edge digital transformation solutions to help domain-leading businesses and innovative startups deliver to excel. We are a team of 70+ enthusiastic millennials who are experienced, result-driven, and hard-wired digital marketers, and that collectively makes us EvenDigit.
Read More