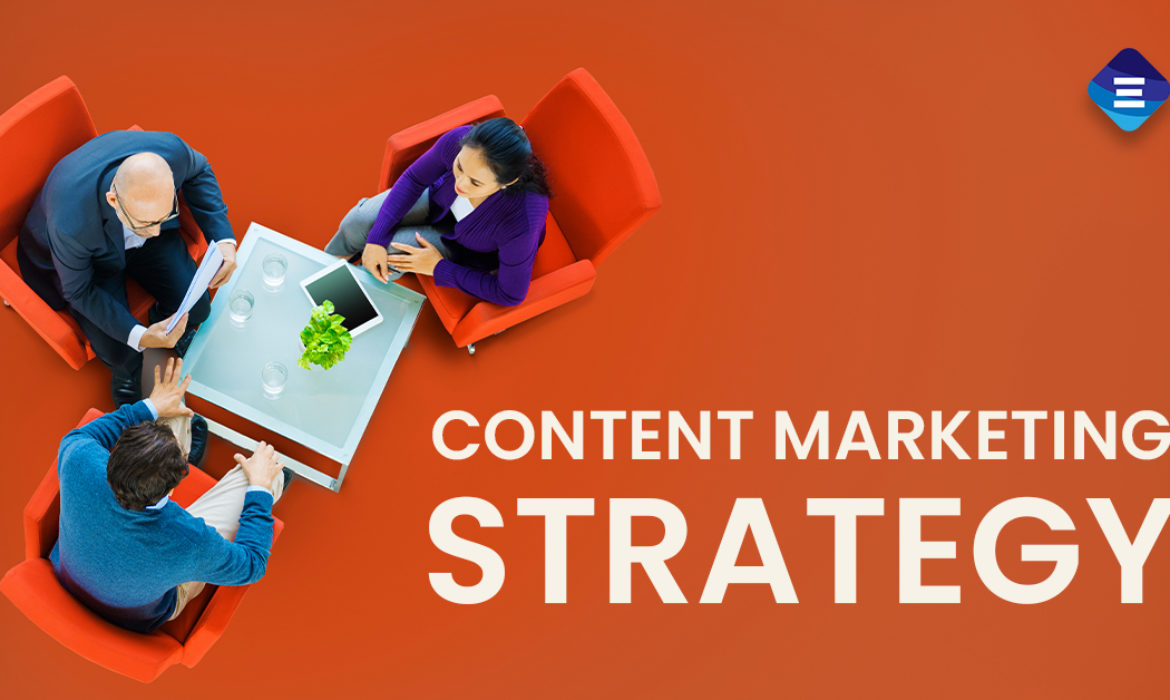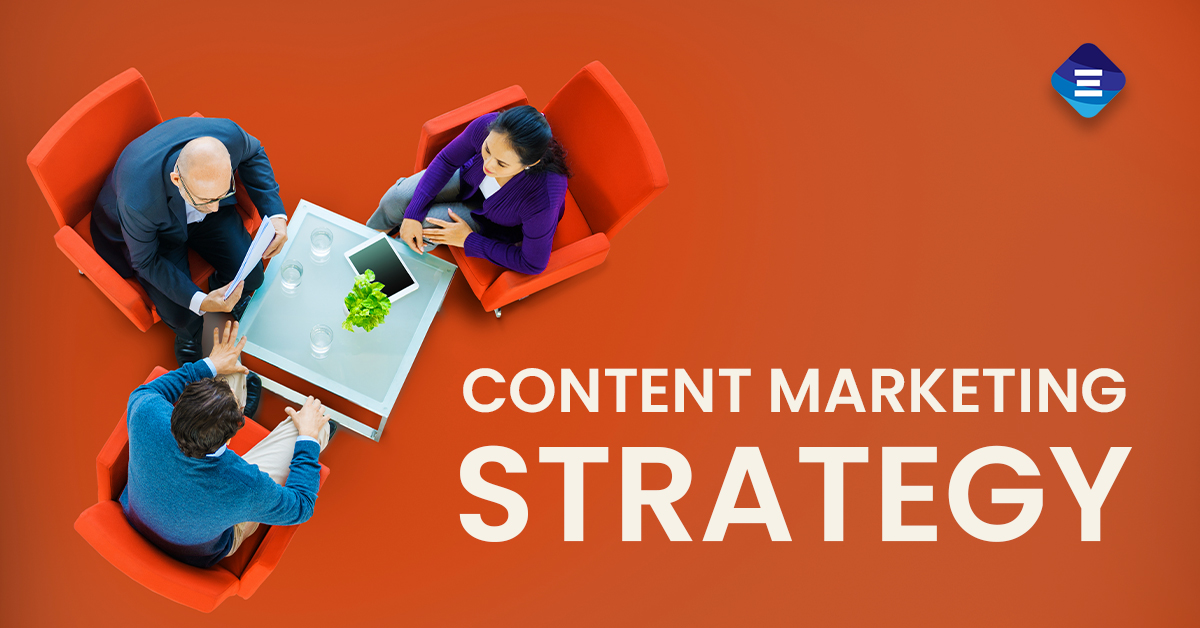 More than 72% of businesses and brands acknowledge that content marketing increases leads and engagement. A good result-oriented content marketing strategy increases the customer's return rate with an accuracy of over 60%.
In the fast-moving digital age, it becomes important that you focus more on content marketing to rapidly increase your brand awareness, trust, and loyalty to your customers.
This blog will provide knowledge about content marketing and how to implement the content strategy in 2022 to bring in all possible leads for your business.
What Is Content Marketing?
Content marketing is the term used to describe the marketing campaign implemented after creating various content marketing strategies.
Content marketing creates and promotes valuable content in videos, blogs, images, emails, eBooks, and more, posted and shared on various platforms to target potential and active customers.
Content marketing is not just limited to content production and distribution; it also includes targeted creation, planning, monitoring, maintenance, and more operations to drive all leads through an appropriate content strategy to increase business.
Why is Content Marketing Important?
Content marketing plays an important role in educating the consumers about your brand's products and services. Content Marketing helps increase brand trust, loyalty, and conversions by strategizing relevant content for the target audience.
Let's check out some stats related to content marketing:
Companies that publish blogs at regular interval generates 3.5x traffic
Content marketing is 62% less cost-effective than traditional marketing and produces 3x more conversions
61% of online readers purchase after reading reviews and recommendations from a blog
Content marketing conversion rate is 6x that of other digital marketing methods
Types of Content Marketing
The way you distribute your content through any given strategy, that approach will become a type of content marketing. Here we are sharing some valid types of content marketing which are result-oriented strategies and grow your business:
1.Blog Content Marketing
Blogs are a great resource for educating audiences about your brand and providing answers and solutions to problems/challenges faced in the niche industry.
With the right strategic use of keywords and storytelling formats, blogs drive a lot of leads and up to 55% additional traffic to your website and engage readers while providing satisfactory answers to their searches.
2.Social Media Content Marketing
With over 4.62 billion people using social media channels, these platforms can bring in many leads with proper marketing strategies.
Social media drives brand trust and loyalty while increasing customer engagement by 15%. Content marketing, along with proper organic and paid marketing strategies, helps target specific audiences and increase conversions.
Many social media platforms like Facebook, YouTube, LinkedIn, Instagram, Pinterest, Snapchat, and others provide different types of content to post, such as photos, videos, live stories, and more, to engage your customers.
3.Podcast Content Marketing
More than 424 million podcast listeners are estimated worldwide in 2022, compared to 384 million users in 2021. Businesses are also moving to podcasts with their lead generation strategies.
People find it easier to listen to audio than to watch and read while doing mundane activities or other important tasks. Businesses gradually increase brand awareness by educating and engaging their target audience while implementing appropriate episode-related strategies.
4.Video Content Marketing
Videos are a great source for educating and engaging audiences. More than 70% of consumers watch videos to learn about the brand's products and services.
Videos develop trust in the audience and are a great source to solve problems and queries related to the brand and the industry. A good content marketing strategy includes videos that bring value to the lives of their target audience and customers.
5.eBook Content Marketing
eBooks increase the chance of conversion by more than 20%. eBooks help viewers make important decisions while increasing brand trust and clarity about products/services.
Providing eBooks to potential customers is a great strategy to lead them to real customers. eBooks instill trust and solve almost all queries related to brand and business industries.
What is a content marketing strategy?
A content marketing strategy combines planning and research to create and promote content across various platforms and channels for result-oriented content marketing campaigns.
Content marketing strategies are based on a variety of factors, including:
Whom is the content made for? (Target audience, retargeting, active customers, etc.)
What type of content does the target audience consume the most? (Videos, pictures, blogs, podcasts, etc.)
Which channel or platform are they most active on? (Social media, search engines, O.T.T. platforms, etc.)
What kind of material should be made? (Educational, funny, informative, and others)
What is the goal of the campaign? (Awareness, sales, offers, etc.)
Depending on the business goals, many different factors will affect the content marketing strategy accordingly.
What are your goals for your content strategy?
Before innovating a content marketing strategy, it is recommended to set some goals by creating an efficient marketing strategy and metrics that will help take potential measures on the weak areas if required.
Set goals based on the desired outcome and strategize accordingly, which may include:
Brand awareness
Lead acquisition
Retaining old users
Increase sales of products and services
The goals may vary according to the businesses and brands. Still, these goals will provide the strategist with an idea to build a precise content strategy.
Content marketing strategy checklist
Strategies are made according to the goal of any business, and content marketing ideas are developed following a complete content marketing strategy.
Your result-driven content marketing strategy checklist should ensure the following:
1. Define Measurable Goals
To successfully formulate your content marketing strategy, you must focus on S.M.A.R.T. (Specific, Measurable, Attainable, Realistic, and Time Based) goals.
2. Research Your Audience
The most important process before creating any content is to research your audience for what to do for maximum engagement and persuade the audience to take the desired action.
3. Focus on SEO and create high-quality content
You must create the content from an SEO point of view to drive the traffic to the desired location. Suppose your content has many keywords and a troubleshooting purpose behind it. In that case, it will mostly be shared by everyone and will rank high on search engines.
4. Video is a Must
As mentioned above in the blog, videos are a great source for increasing engagement. Incorporating video marketing into your content marketing strategy will attract many potential customers to engage with your brand.
5. Offer eBook infographic
Making eBooks available for free or on offer is a great strategy to convert leads into real customers. eBook builds trust in the brand and motivates the potential customer to take the desired action.
6. Measure Your Results
One of the most important processes of a content marketing strategy is to measure results at regular intervals to track and analyze current results and what other measures can be taken to improve the strategy.
7. Listen to Your Customers (Feedback and suggestions)
Feedback and suggestions are of great help in creating, implementing, and modifying content marketing strategies. Customer satisfaction is essential for every business. Feedback can go a long way in understanding the consumers and implementing the strategy accordingly.
What Type of Content Will Your Audience Prefer In 2022?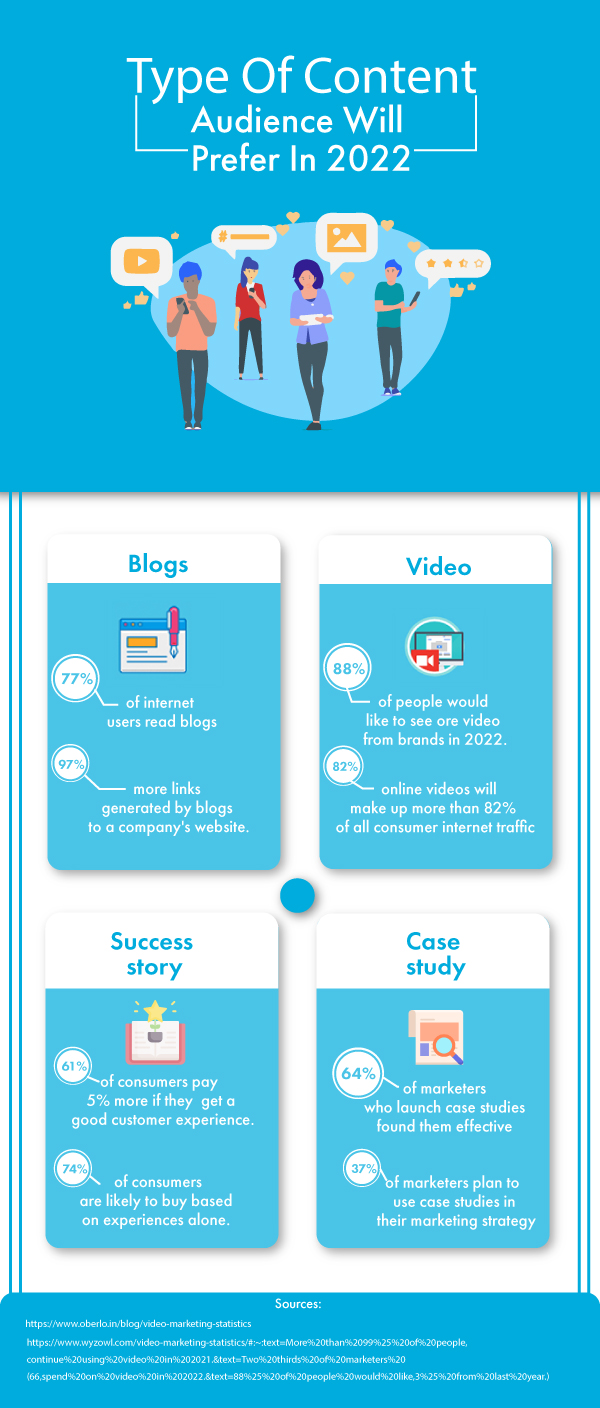 What Type of Content Will Your Audience Prefer In 2022?
Content marketing brought great success to businesses in 2021 and continues to grow at the same rate in 2022. But with the growth, the market is getting saturated, and it is getting harder for content marketers and brands to stand out.
Then the main question arises, "what type of content to create to stand out this year?"
Hence, we suggest the top content types that will work in 2022 to get the most out of your content marketing strategies.
1. Blog Posting

36% of readers prefer list-based headlines
59% of people shares article from social media posts
2. Videos
80% would rather watch a video from a brand than read a blog
60% have purchased an app or software after watching a video from a brand
3. Infographics & Images
Infographics increase website traffic by up to 23%
When compared to text-only instructions, visual instructions enhance productivity by 51%
4. Podcasts
20.3% of all Internet users are podcast listeners, i.e., 424+ million
14% increase in buying intent from business-focused podcasts for brands
5. Reviews & Testimonials
7 on 10 consumers rely on reviews and testimonials attached to the product before making a buying decision
92% of customers read online reviews before buying
6. Landing Pages
Landing pages with just 1 CTA have 1.6x more turnout than the ones with more than one
Giving two or more deals on the same landing page reduces conversion by 256%
Conclusion: Don't Miss Out on Your Potential Customers In 2022
Use the above points to create an excellent content marketing strategy to bring in many potential customers to your business in 2022.
Content creation requires a lot of experience and industry knowledge. It is ideal to hire a content marketing agency to level up the game for your business with their content marketing services.
Skyrocket your business growth with EvenDigit's top-notch content marketing services!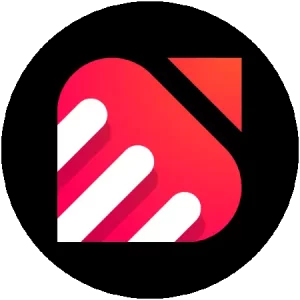 EvenDigit
EvenDigit is an award-winning Digital Marketing agency, a brand owned by Softude (formerly Systematix Infotech) – A CMMI Level 5 Company. Softude creates leading-edge digital transformation solutions to help domain-leading businesses and innovative startups deliver to excel. We are a team of 70+ enthusiastic millennials who are experienced, result-driven, and hard-wired digital marketers, and that collectively makes us EvenDigit.
Read More