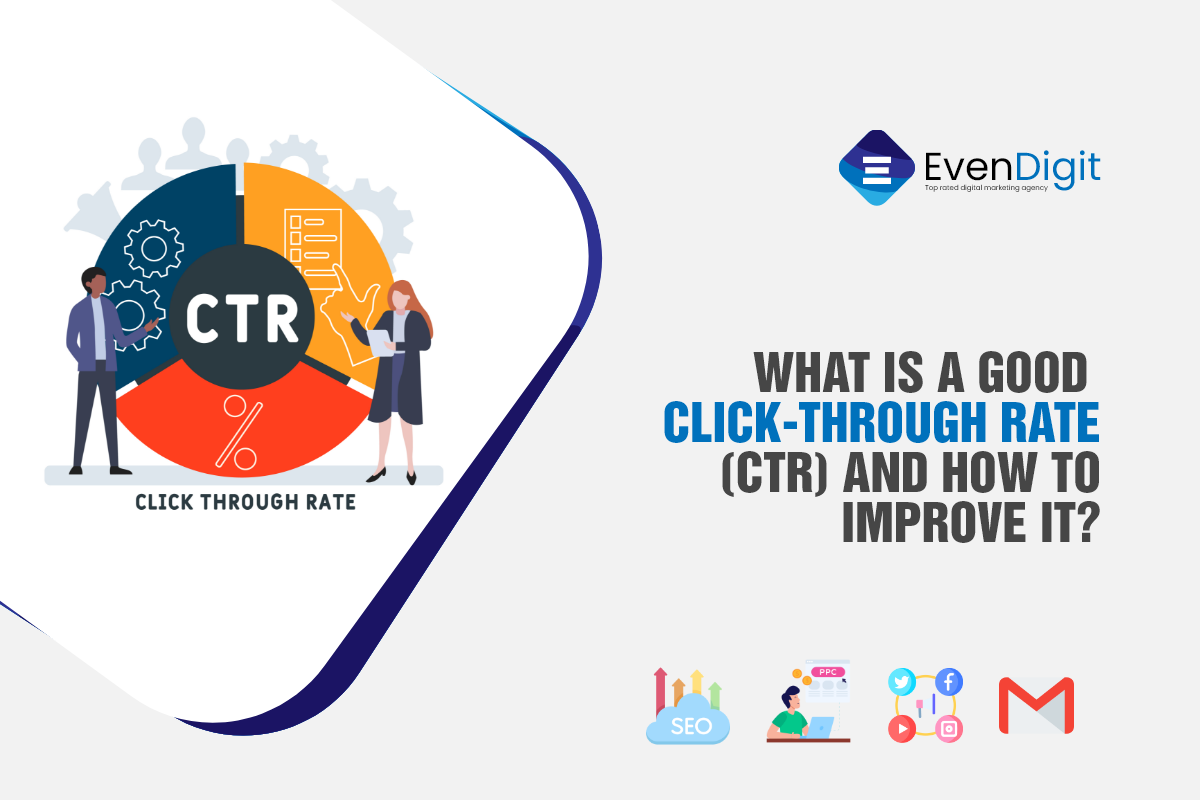 The main reason every business predominantly focuses on digital marketing is because of its advantage of measuring results.
All the campaigns executed on the digital platform have appropriate measuring methods. A team can easily analyze how their campaigns have performed, or were they lucrative or not?
Every campaign manager must rely on an essential metric: click-through rate (CTR). CTR varies from industry to industry and helps you understand the ratio of how many target audiences are interested in your services or products and engage in your adverts to discover further.
Now you may have questions like – what is a good CTR? importance of CTR in digital marketing? how to improve CTR? and so on.
To learn everything about CTR and leveraging your upcoming campaigns with this vital metric, read our blog till the end.
Why Is Click-Through Rate Important in Digital Marketing?
The click-through rate (CTR) is the number of clicks obtained per impression in a campaign. It is essential to calculate the success of your PPC advertisements, social media ads, email marketing, and other campaigns.
The significance of your CTR is directly proportional to the Quality Score. After your campaign goes live, it is crucial to figure out how the ad performs.
CTR helps you find out your campaign's performance with accurate analytics and a simple formula. If the campaign begets good CTR, then everything you have strategized has hit the target. But if you have low CTR, that means nothing perfectly worked.
A low CTR indicates that you are targeting the wrong audience, or if you have targeted the correct audience, you are not connecting to them. Low CTR also illustrates that the campaign's approach is not convincing enough for your audience to trigger action from them.
That's why it is always important to calculate CTR for every digital campaign. CTR will help you to make a better strategy for your subsequent campaigns and avoid the mistakes made in past strategies.
What is a Good Click Through Rate?
No single unit or concrete measure is defined to represent a good CTR. The CTR varies depending on several factors, including your industry, campaigns, platforms, and keywords.
The quality of the images, ad positioning, keywords, and various other elements will all influence your CTR.
A good CTR mostly depends on the goal of the advertising campaign. Call-to-actions (CTAs) play a vital role in increasing the CTR of a campaign. The CTR will increase if the CTA is relevant and action-evoking.
In simple words, the higher the clicks, the better the CTR of the campaign. The average click-through rate for search and display ads is 1.9%, and depending on the industry, the good CTR may vary from 0.4% to 11.4%.
How is the click-through rate calculated?
Measuring CTR has a simple formula:
CTR = (
clicks

÷

impressions

)

x 100

.

For example, if 1000 people see your online ad and 50 of them click it, then your CTR for that campaign will be (50 ÷ 1000) x 100 = 5%.
What is your industry's average CTR?
Marketers can determine a reasonable click-through rate based on benchmark studies on average CTR.
Do you want to know what is a good CTR for Google Ads? Then, here we are sharing the average CTR percentages for search networks according to the industries to help you better understand where your CTR lies.
| Industry/Business Category | Search Network Average CTR In % |
| --- | --- |
| Arts & Entertainment | 11.43 |
| Travel | 9.19 |
| Sports & Recreation | 8.82 |
| Automotive — For Sale | 8.67 |
| Real Estate | 8.55 |
| Restaurants & Food | 7.60 |
| Animals & Pets | 7.08 |
| Personal Services (Weddings, Cleaners, etc.) | 6.95 |
| Apparel / Fashion & Jewelry | 6.27 |
| Physicians & Surgeons | 6.25 |
| Education & Instruction | 6.17 |
| Health & Fitness | 6.15 |
| Furniture | 6.01 |
| Career & Employment | 5.93 |
| Beauty & Personal Care | 5.92 |
| Finance & Insurance | 5.70 |
| Automotive — Repair, Service & Parts | 5.65 |
| Industrial & Commercial | 5.61 |
| Shopping, Collectibles & Gifts (General) | 5.50 |
| B2B | 5.17 |
| Dentists & Dental Services | 5.03 |
| Home Improvement | 4.62 |
| Attorneys & Legal Services | 4.24 |
CTR is rising for every industry year over year, implying that advertising is becoming more relevant to users, which might be attributable to improvements on both the advertiser and search engine sides. Giving it more room for every industry to leverage the business with online campaigns.
If your CPC is higher than average, you'll want to monitor it more closely to ensure you profit from your return on advertising spend/investment.
Factors That Affect the Click-Through Rate
CTR is a critical measure in the display, email, social, and paid campaigns. CTR affects various elements, including visuals, keywords, call-to-actions, content, and ad location.
Some of the factors that affect the click-through rate adversely, if not determined appropriately, are as below:
Ad Position- Your ad position determines how much CTR you will receive. A higher CTR has been observed for ads at the top of search engine results.
Ad Relevance – Relevancy is essential, and if people relate to the content, the possibility of higher CTRs increases.
Bids – The bid is an essential aspect in determining ad rankings. The CTR will be higher if the bid is high.
Search Terms – Some searches are relevant, while others are not, and the CTR varies by industry.
Ad Extensions – They distinguish your adverts from competitors' and encourage people to visit your preferred landing page.
Tips for improving your industry's CTR
There are no such preset rules or standard practices that will improve your CTR and guarantee 100% success.
Our tips will help you to upgrade your current methods for better performance. Follow the below tips to make your campaign fruitful for your business:
1. Conduct Appropriate Keywords Research
Keyword research assists you in determining the best keywords for your category and targeting the right audience through your advertisement.
You may believe a particular keyword would do well, but it may not. Keyword research helps design efficient adverts.
Using the proper keywords, you may increase your CTR and procure more qualified leads.
2. Brainstorm Appropriate CTAs
CTAs are vital since they inform your target audience of what they should do next. It is critical to include pertinent CTAs in your adverts.
You will get more people to click on your ads by employing relevant CTAs. They will assist you in increasing your CTR and generating more genuine prospects for your business.
Depending on your ad purpose, you may use phrases like "Find out how," "Check it out," or "Shop now." Try to make them more creative and action-oriented.
3. Use Appropriate Dimensions
First and foremost, verify that you are selecting the most effective ad sizes and positioning.
The 336x280px, 300x250px, 728x90px, 300x600px half page, and 320x100px are the most effective sizes, as suggested by Google.
Remember that consistency is essential. Test and analyze competition regularly to generate better ads with better creatives.
4. Targeting Appropriate Audience
If all steps are appropriate, but the relevant audience is not targeted, all efforts will be futile.
The truth is that no matter how unique your text, creativity, value, message alignment, title, or other aspects are, if the audience isn't seeking the related products or services, they won't engage.
Use deeper audience targeting metrics such as interests, age, demography, and so on to target the appropriate audience and improve your CTR.
What is Organic Click Through Rate (CTR)?
Organic CTR, informally referred to as SEO click-through rate or CTR SEO is the percentage of clicks you get from the visitor on search engine listings.
The higher your CTR, the higher the percentage of visitors you get from organic search.
Your click-through rate is closely related to user engagement, a factor that Google is most concerned about. Google seeks to rank the websites that searchers mostly click on so that the new user gets relevant and authentic information.
5 Tips to Improve Organic CTR
Here we are sharing five beneficial tips which help to increase your organic click-through rate more proficiently:
Make your page titles appealing.
Add power words to your descriptions
Use URLs that are both short and meaningful.
Make your content Google-rich snippets ready.
Optimize your sitelink content.
How to Increase PPC CTR
Google evaluates your website's content and relevance to Google users using several measures, including CTR.
You can determine whether your site is helpful and relevant for particular keywords through CTR. Due to the direct impact it has on your Quality Score, the click-through rate is crucial to your account.
An increased click-through rate is critical to your PPC performance since it influences your Quality Score and the amount you pay each time a visitor clicks on your Google Ads.
3 Tips to improve your PPC CTR:
Here we are sharing the three most beneficial tips which will help you to increase your PPC click-through rate more competently:
Implement efficient keyword management.
Include relevant ad extensions.
Adapt the copywriting approach to your content.
Click Through Rate For Email Campaigns
The email campaign CTR is measured by dividing the number of clicks received on a hyperlink, CTA, or picture within an email by the total number of sent messages.
To find out your email campaign CTR, use the formula,
CTR email marketing = Emails clicked / (Emails sent – Bounces)
In email marketing, a good click-through rate is around 3%, and the average click-through rate is 1-5% across all industries.
Social Media Platforms Click Through Rate
To evaluate their paid advertising campaigns, marketing professionals look at social media click-through rates.
A click-through rate is measured by how many people click through to read more, purchase, or take some other action after viewing a social post or ad.
Let's explore what is a good click-through rate for Facebook ads, Instagram ads, LinkedIn ads, and YouTube ads, as these platforms are most commonly preferred for running campaigns.
Note: The good CTR varies from the average CTR, so don't get disappointed if you are not achieving the metrics mentioned as a good percentage. It would be best if you made a good CTR percentage as your goal to keep on improving.
What is a good CTR for Facebook ads?
The click-through rate of Facebook is the highest as compared to other social media platforms, i.e., an average of around 3.86%.
What is a good CTR for Instagram ads?
In general, Instagram feed ads see CTRs between 0.22% and 0.88%, whereas Stories ads experience a narrower CTR range of 0.33% to 0.54%
What is a good CTR for YouTube ads?
The average CTR on YouTube ads is 0.07 to 1% depending on the industry, and it is always ideal for focusing on more significant numbers.
What is a good CTR for LinkedIn ads?
A good CTR on LinkedIn ads is approximately 4.98%, and you must always try to achieve between 3% and 4%.
Click Through Rate FAQs
Q. What is the average CTR for the Google Search Network?
Ans. The average search network CTR across all sectors tracked in Google Ads is 3.17%.
Q. What is the average CTR for the Google Display Network?
Ans. The average Google Display Network CTR by industry across all sectors evaluated in Google Ads is 0.46%.
Q. What is a good impression click-through rate?
Ans. There is no doubt that click-through rates differ from campaign to campaign and even from keyword to keyword. Depending on how your ad is rated on the results page, everything from its wording to how it is presented will impact its visibility.
In other words, while achieving a "high click-through rate" is desirable, you cannot determine a specific number. It's important to note that the average click-through rate varies by industry and that the position of your ad also influences your predicted CTR.
As a general guideline, a decent Google Ads click-through rate is 4-5% or more on the search network and 0.5-1% or higher on the display network.
Conclusion: Improve Your Campaigns by Increasing Your CTR with EvenDigit
You may have better understood click-through rate and why it is an essential factor. To leverage your business with digital campaigns, contact EvenDigit!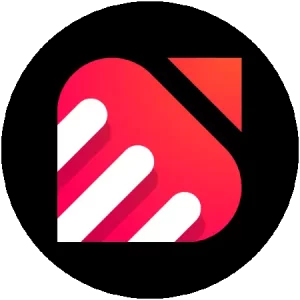 EvenDigit
EvenDigit is an award-winning Digital Marketing agency, a brand owned by Softude (formerly Systematix Infotech) – A CMMI Level 5 Company. Softude creates leading-edge digital transformation solutions to help domain-leading businesses and innovative startups deliver to excel. We are a team of 70+ enthusiastic millennials who are experienced, result-driven, and hard-wired digital marketers, and that collectively makes us EvenDigit.
Read More